How Long Should A Research Paper Be?
You must have known what research looks like. It has a particular structure that should be followed at any cost since it is the criteria for writing a research paper. Several questions come into the mind of students such as how to write a research paper, how long should a research paper be, etc.
That's why we have brought a series of research writing and addressing different questions related to it. This blog is going to answer how long your research should take. Although it depends upon the guidelines given by your teacher, there is also a standard length of research writing. Let's dive in and learn everything about the ideal word count of any research.
What is a Research Paper?
A research paper is a lengthier essay than the regular one which is entirely based on a qualitative or quantitative assay. A thesis statement is formed to research so that it could be justified in the very end. A research paper is well-explained and properly written to describe every single point.
What is the Standard Length of a Research Paper?
Talking about the standard length of a paper, we must say it varies based on the instructions provided to every student, as well as the structure a student is following. It is never a fixed one for all types of papers yet, there are some conditions and possibilities because of which the word count varies.
Research that has a thesis statement only requires 2 to 3 arguments to be proved and will be summed up in 500 to 700 words. After providing the introduction and a little background on the research, you can directly shift to mentioning the arguments and claims so you may prove the statement and complete the research.
Some research requires detailed analysis and interpretation of the findings. This kind of paper has several stages such as introduction, background, thesis statement, objective, research questions, literature review, research methodology, data collection, discussion, findings, conclusion, and bibliography. Such research easily crosses 5000 words because it is important to discuss everything about the topic.
So it entirely depends upon the structure you are following to write the research. It could be as long as just 500 words, or 5000 words, and even more. It all varies therefore you must be prepared for writing a paper no matter how long it should be.
Why Considering Length of a Research Paper is Important
Identifying the length of research is important because of so many reasons. You might have never realized the significance of considering how long a paper should be, so here we go with some of the vital reasons.
1. Going Extra May Ruin Your Research
You cannot write more than is required in research. If you are doing so then you are automatically ignoring the quality measures of writing a paper. If you are writing more than words than is required then there are chances you are going to submit a poor quality research work.
2. Sticking to the Guidelines is Important
When your guidelines have mentioned 1000 words maximum and you are submitting research of 2000 words, you already know what wrong you have done. If you are not sticking to the guidelines it will result in deduction of marks, fall in grades, and repetition of the class course.
3. Having a Balance is Good
It is necessary to keep a balance between the word count of all the headings. Without this much-needed balance, you might end up submitting a poor paper that has a longer introduction, and a shorter explanation of the findings. That's why attaining a balance is important in your research word count.
4. Delivering Quality Research is the Criteria
When you are delivering quality content, you will be appreciated no matter what. If you consider the length of your research, you are one step forward in delivering quality research work to your teacher.
How Long Should a Research Paper Be?
This question is valid and one of the frequently asked questions by the students of high school and college. It is also important to know before you start working on your paper. Don't forget to read the instructions provided by your teacher, however, we have more suggestions for you regarding the length of the research.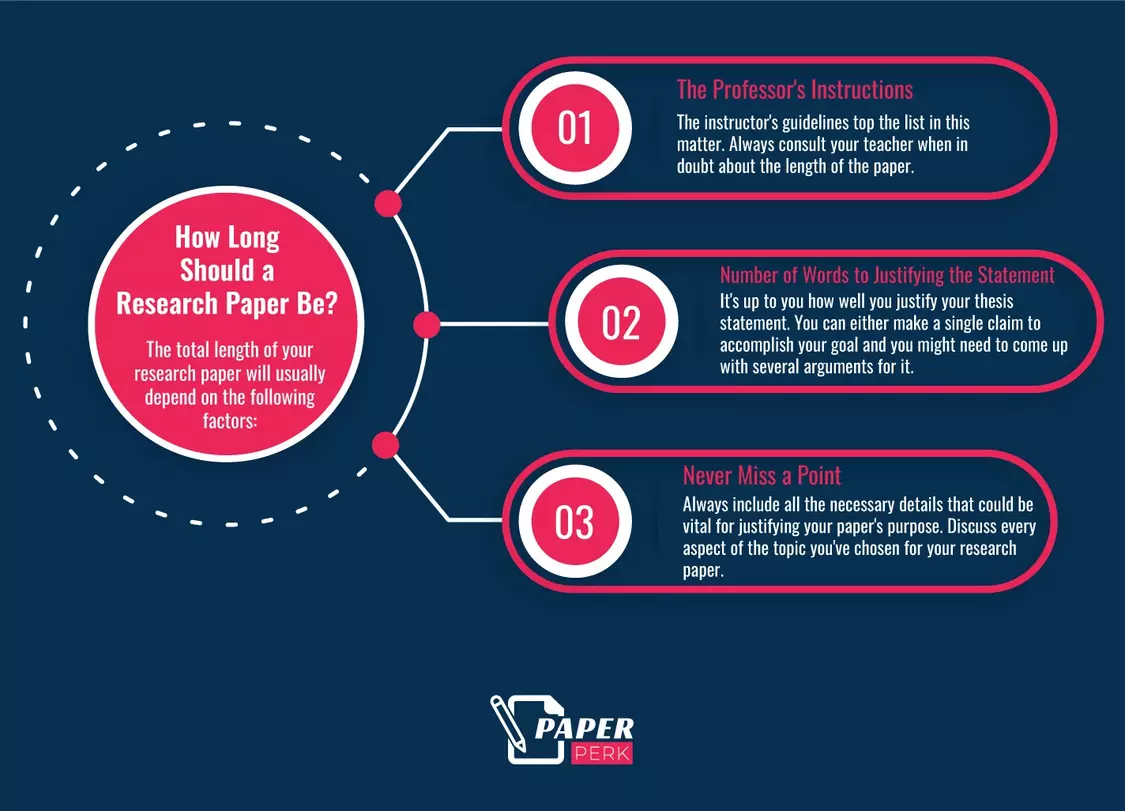 1. It All Depends On Your Teacher First
Your teacher indeed decides what should be the ideal length of your research. They have given some guidelines to you and you need to follow them. The teachers always know the best and they will suggest to you how long your essay should be.
Some teachers have kept a certain word limit for the paper while others provide you complete freedom to write as long as you want. It is necessary to figure out what's best for your research. In high schools, a standard length of any research is a maximum of 7 to 8 pages while the minimum should be 5 pages.
2. Check How Much Length is Required to Justify Your Statement
Sometimes it is based on the thesis for research paper . From the part of the abstract to the conclusion, there must be a balance between the word count of every heading. It is your responsibility as a writer to track the word count when you are trying to justify your thesis by giving several arguments and claims.
If you have decided how many arguments it will take to prove your thesis, then you have already finalized the length of your research. All you have to do is prepare everything in advance and see if you are proving your point within 5 or 8 pages.
3. It Shouldn't Miss Any Point
A researcher must be discussing all the standard details that could justify the purpose of writing the paper. It must have all the headings properly discussed. Since all the points must be 100% clear in the research, deciding on a word limit in the very beginning could be a little hard.
But it is not impossible to identify by making an outline and checking how many pages will be covered in writing about a certain topic. All you have to do is take care that no point is missing in the research. Cutting the research short and trying to discuss facts to the exact point won't help unless you are entirely explaining every aspect as required.
How Long a Research Paper Should be in Words?
You have learned something about the ideal length of research. When it comes to the word count, the criterion is a bit different. For example, if you need a Ph.D. research paper help, you must know the word count, typically between 70,000 to 80,000 words. As you suggest a specific word count for every heading, it is easier to guess how many words are required to summarize every title.
1. Assign Word Count To Each Heading
It is easier to assign a specific word count to every heading and then see what's the total word length of the paper. For instance, you have to decide how many words will be used to cover your introduction section. A literature review is a second longer part after the discussion in every research so it is necessary to make an outline in advance and see what is the ideal length of every heading.
By giving a suggested word count to each heading you will make a clear pathway to follow during the complete research. It will be automatically easier for you to see how many words will be written to explain everything in your research thoroughly.
There are several sections in research that require certain word counts. Let's see what word count is usually subjected to every heading.
● Abstract
An abstract for a research paper is the first main part that summarizes the research from the beginning to the conclusion. It contains the thesis, methodology, findings, and conclusion. So to explain the complete research in a few sentences, roughly 100 to 200 words will be required. So you may keep in mind the word count for an abstract is a maximum of 200 words.
● Introduction
An introduction is also a major part of the research and it is easily covered within 300 words maximum. Nothing else is required to explain terminologies or theories in this section.
● Literature Review
The literature review is the second-longest section in any research. It contains a reference to the past research done in a similar field by other researchers. Every research must have 5 to 8 or even more past papers discussed in it. Therefore the ideal word count for this section is 500 to 1000 words.
● Methodology
The methodology section also has subcategories in which you have to explain the method of research, data collection, population, research implications, research Instrument, etc. It will take around 300 to 400 words and 100 words extra if you are discussing a theoretical framework too.
● Discussion and Interpretation
This is the longest part of any research since you have to explain all the findings and tell your readers how successfully you have managed to prove your thesis. This part is as long as 500 to 1000 or even 1500 words depending upon the results and the explanation required.
● Conclusion
A conclusion is a not so lengthy part of the paper. It is usually done within only 100 or 150 words maximum. It is that simple and thus it doesn't need so many words to finish the argument and put a full stop.
2. Form a Paper Outline
Forming a paper outline in advance will also help you in understanding how many words you may need to cover every heading. This is one of the best ideas for assigning a particular word count to every heading of the paper.
As you'll create a paper outline, you will get an instant idea of how many words you have to write in total to complete the research. Following this strategy will surely help you won't be puzzled later during the writing process.
3. Ask Your Instructor
It is always a good idea to ask your teacher or instructor before following any word count technique. They have assigned you a paper so they can provide you with a better guideline to write your paper. It is the easiest method of identifying the word count of your research as it's something recommended by an expert. Your job will become much easier and simpler by just seeking advice from your teacher.
How Long a Research Paper Should be for Middle School?
A middle school student is just starting with the research work and they are at the initial stages of learning how to conduct research. To understand how long a paper should be for middle school, you need to do some work.
1. Seek Expert Help
It is always better to seek help from an expert to decide the word limit of your essay when you're a high school student. It could be your teacher or any senior student who will help you and guide how many pages you should write for your research. It is suggested to write 4 to 5 pages when you are a middle school student in writing a paper.
2. Do Research
It is always important to do some research and find out what's best for your paper. Google is always open to helping students in learning new things without any limit. You can open the Google search engine, write down your query in the search bar and click on it.
Next, you will have everything to read and understand how a paper for middle school will work. By doing so you will automatically get an in-depth idea of crafting research for the initial level project.
After analyzing everything you can easily guess what should be the length of any research written by a middle school student. In pages, it is suggested to write 3 to 5 pages, but in words, it is recommended to write 400 to 500 words only. You can also hire a professional paper writing service to aid you in the process.
As it's a new thing for the students to perform, they might get nervous easily. That's why starting slow and taking baby steps towards learning research writing will help a lot.
How long Should a Research Paper be for High School?
High school is a different stage than middle school. You are mature, better at studies, and even more creative than before. This stage comes with its challenges and one of them is writing the research. If you are a new high school student we bet you don't know much about paper writing at this level.
When a high school student writes a research paper, it's usually written within 500 to 1000 words. It could be more than this word count or just 5 to 6 pages. The teacher's instructions do matter a lot in this aspect and without them, you can't understand the criteria of research writing. It takes a lot of research, consultation, and creativity to write a paper that stands out. The competition is even tougher in high schools so you know how tough it can get to write a research paper fast.
Your research will decide if you are going to pass the school or not. Many students stay stuck in a class because they are incapable of submitting a brilliant research paper. Most of the time it's because they don't know the standard guidelines for writing a paper.
They usually end up ignoring the pattern, writing incorrect information, or exceeding or limiting the length assigned for the research. So it's better to keep in mind what is the better approach for research writing and how a high school student can learn to write it.
How Long Should a Research Paper be for College?
Have you ever thought about how long your research should be when you have finally reached college? It is the final stage of your education and writing research in this phase will require a lot of preparation. In college, you have to write the longest research papers because it is the standard of a paper written by a college student.
So how exactly long should research be for college? It starts with roughly 3000 words and goes up to 15000 words. 15000 words is a lot but students who are working on their thesis need a lot of details to justify and complete their research. Without doing this they are not getting passed at any cost so now you know why it is so important.
Different sections of the paper require their particular word count. It is sometimes difficult to identify but your teachers will always be there to guide you. Sometimes students are given the entire freedom to keep their essay length on their own. It helps them understand how easily they can prove their thesis either in a few or a lot of pages.
For those who have just reached college and don't know how long their paper should be, Google is the best option for them to learn more about research writing. A lot of content is already published on the web which teaches the students almost everything they need.
Conclusion
We hope you know how long a research paper should be, no matter if you are writing one for your middle school, high school, or college. All of them have different requirements and basic criteria that should be followed. We also hope this blog has helped you learn everything about deciding the word count or overall length of your research.
Our comment section is always open for your discussion and feedback. If you want to get in touch with us or discuss the topic more, just leave a comment in the given box. We would love to hear from our readers and see what they have in their minds after reading our blog.