How Many Sources For A Research Paper Would Be A Perfect Fit
As T.S Elliot says about talent in his article Tradition and Individual Talent: "it cannot be inherited, and if you want it, you must obtain it by great labor."
Regarding higher education, dissertations, theses, and research papers are the best way to acquire and preserve knowledge. All thesis and research papers require great effort to produce the best outcome. As the quote in the beginning says, you cannot inherit or create talent. It would be best if you acquired it with great effort. Those efforts are combined into a research paper taking sources and references from frequently cited recent literature. However, the question we have today is how many sources for a research paper would be a great fit? Let us sit back, relax, think, and finally come up with what we can do about it.
Why Is Adding Resources To A Research Paper Important?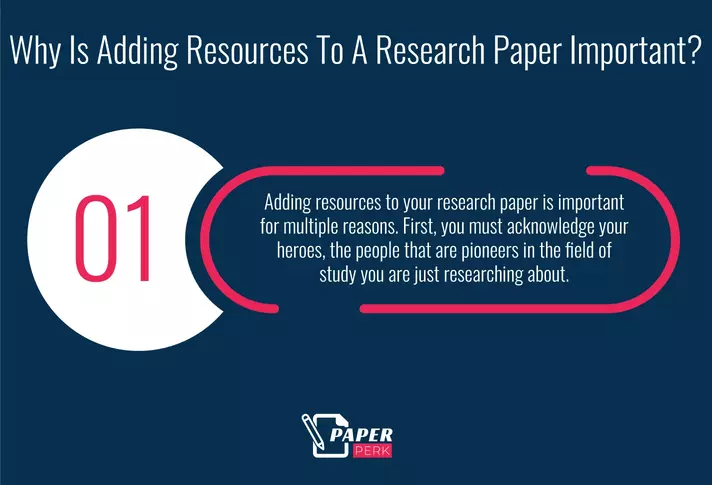 Adding resources to your research paper is important for multiple reasons. First, you must acknowledge your heroes, the people that are pioneers in the field of study you are just researching about. It would help if you mentioned them by giving them credit. Another reason is that it can provide you with many insights and ideas that you can use to extend and detail your research paper. That will lead you to develop original ideas and avoid repetition and redundancy.
The main reason for adding resources to your research paper is that it helps you understand the basics of what you have studied in a particular subject and what you know about it. In addition, using sources indicates that the candidate has gone through a thorough research process and paid full attention to it.
Adding resources to your research paper is essential to get high marks and creating a well-rounded, informative piece of writing.
Read More: Accounting Research Topics
How Many Sources For A Research Depends On The Type Of Paper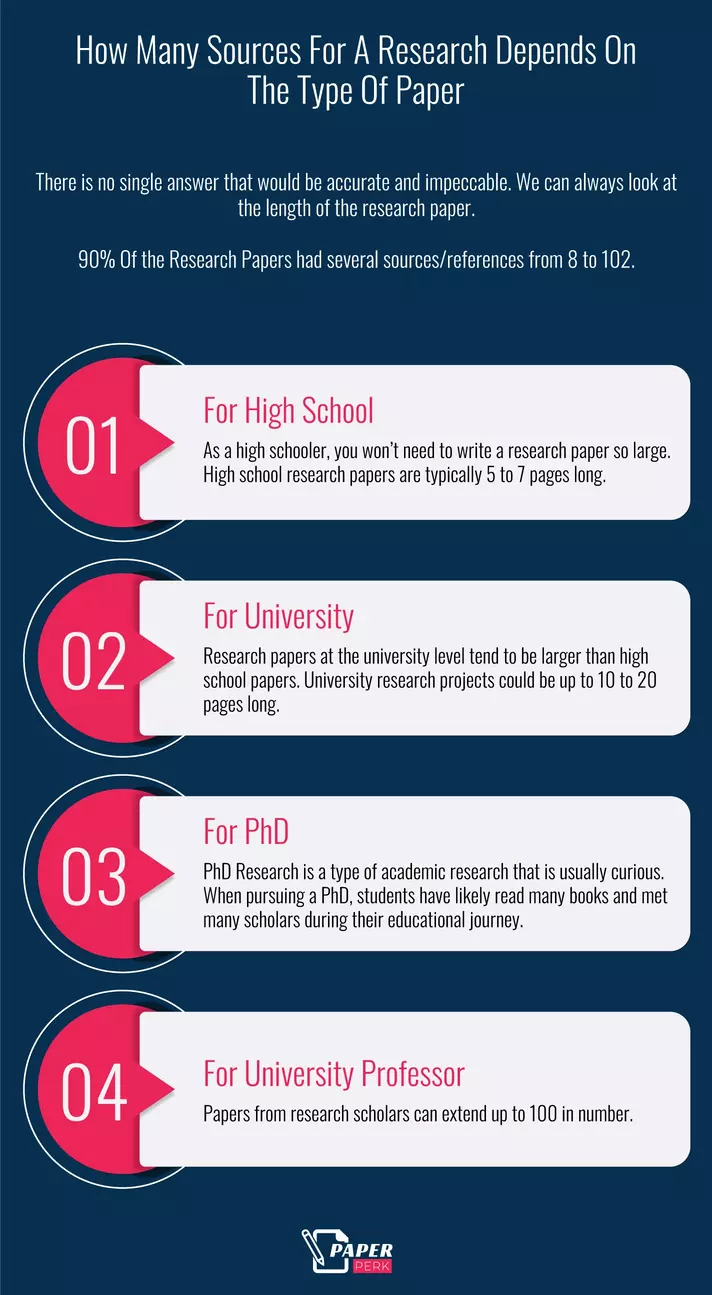 There is no single answer to how many sources for a research paper would be accurate and impeccable. We can always look at the length of the research paper. Adding sources is necessary to assure your supervisor that you have given enough time to research. Now the general minimum number of resources could be 5 to 10. According to a survey:
90% Of the Original Research Papers had several sources/references from 8 to 102.
How Many Sources For A Research Paper Are Needed For High School
As a high schooler, you won't need to write a large research paper. High school research papers are typically 5 to 7 pages long. According to your needs ideally, you will need fewer references than a dissertation. The same goes for newspaper articles. However, that's not the final number. In the end, it depends on your situation. For example, if you are writing a paper on history research topics, you might need to add more references than from 2 or 3 sources. Why is that? Because history is a delicate subject, you're rarely sure what happened. Therefore, the more sources you add, the more authentic it will seem.
Number Of Sources For A Research Paper Needed For University
Most research papers at the university or college degree level tend to be larger than high school papers. University research projects could be up to 10 to 20 pages long. The longer the research paper is, the more you will need to inject sources. A university paper should have at least 7 to 15 sources for better understanding.
Sources For A Research Paper Needed For a PhD
Ph.D. Research is a type of academic writing that is usually curious. When pursuing a Ph.D., students have likely read many books and met many scholars during their educational journey. As a result, they often have a lot to share in their research and credit many sources. The number of sources found in an average university research paper is usually between 40 and 45.
How Many Sources For A Research Paper Needed For University Professor
Your journey to knowledge does not end with your Ph.D. Thousands of professors are employed at universities worldwide solely for research purposes. A life filled with curiosity and adventure, a thousand books to read for a living… isn't that the dream life? Well, life is not a bed of roses. Those research professors have to face challenges in writing research papers as well. They have read so many books and have had so much adventure in their lives. They use more references than we usually see. Papers from research scholars can extend up to 100 in number.
Read More: Psychology Research Paper Topics
How To Decide the Number of References For A Research Paper Do You Need?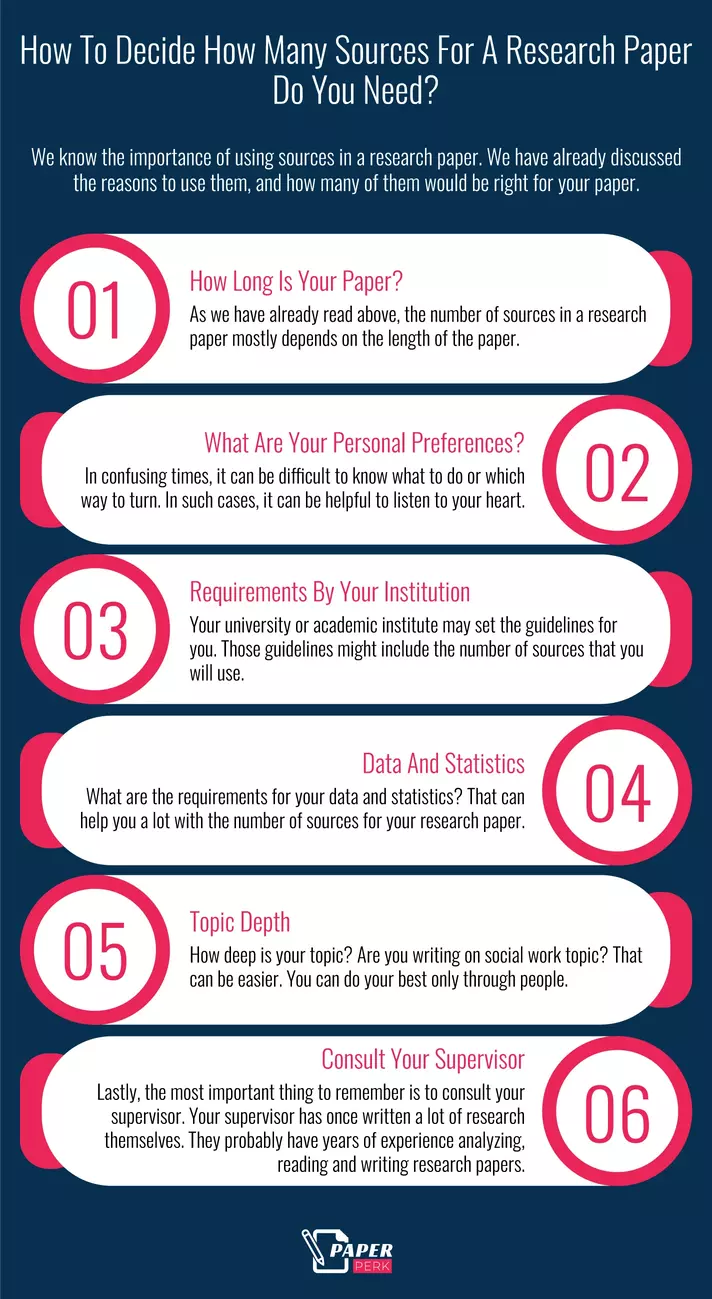 We know the importance of using sources in a research paper. We have already discussed the reasons to use them and how many references would be right for your paper. But how do you decide for yourself how many sources you will need for a research paper? There could be several factors that can help us decide and solve the equation.
How Long Is Your Paper?
As we have already read above, the number of sources in a research paper mostly depends on the length of the paper. A school paper would suffice with 2 sources. On the other hand, you may need 50+ sources for a Ph.D. Research Paper. The length of a literature review is an average of 20 to 25, and for that, it would be suitable to include 15-18 sources.
What Are Your Personal Preferences?
In confusing times, it can be difficult to know what to do or which way to turn. In such cases, it can be helpful to listen to your heart. After all, you know what is best for your research topic and what you will write about. You are the expert on your topic, and no one knows better than you what will work best for your research. In many cases, students are expected to choose their own number of sources to make the best use of their time and talents.
Requirements By Your Institution
Your university or academic institute may set the guidelines for you. Those guidelines might include the number of sources that you will use. Moreover, some institutes would guide you through their best representative to help you with the scholars you can use as sources.
Data And Statistics
What are the requirements for your data and statistics? That can help you a lot with the number of sources for your research paper. Using different data types as source material could provide additional value to your research. Also, they will make the paper easier to understand and take your research to a new level.
Topic Depth
How deep is your topic? Are you writing on a social work topic? That can be easier. You can do your best only through people. On the other hand, you will find references from many scientists when you're working on medical research. If you ever happen to visit an online scholarly database, you try making a reference list based on the existing studies and publications related to hard and natural sciences. You will see that many papers adopt different approaches regarding the density of scholarly sources.
Consult Your Supervisor
Lastly, the most important thing to remember is to consult your supervisor. Your supervisor has once written a lot of research themselves. They probably have years of experience analyzing, reading, and writing research papers. They are your best chance to help and make sure that you do your best with your research paper. They can guide you in looking at your research topic and scope with the best advice regarding how many sources for a research paper are needed.
Read More: Social Work Research Topics
Where To Find Sources On The Internet?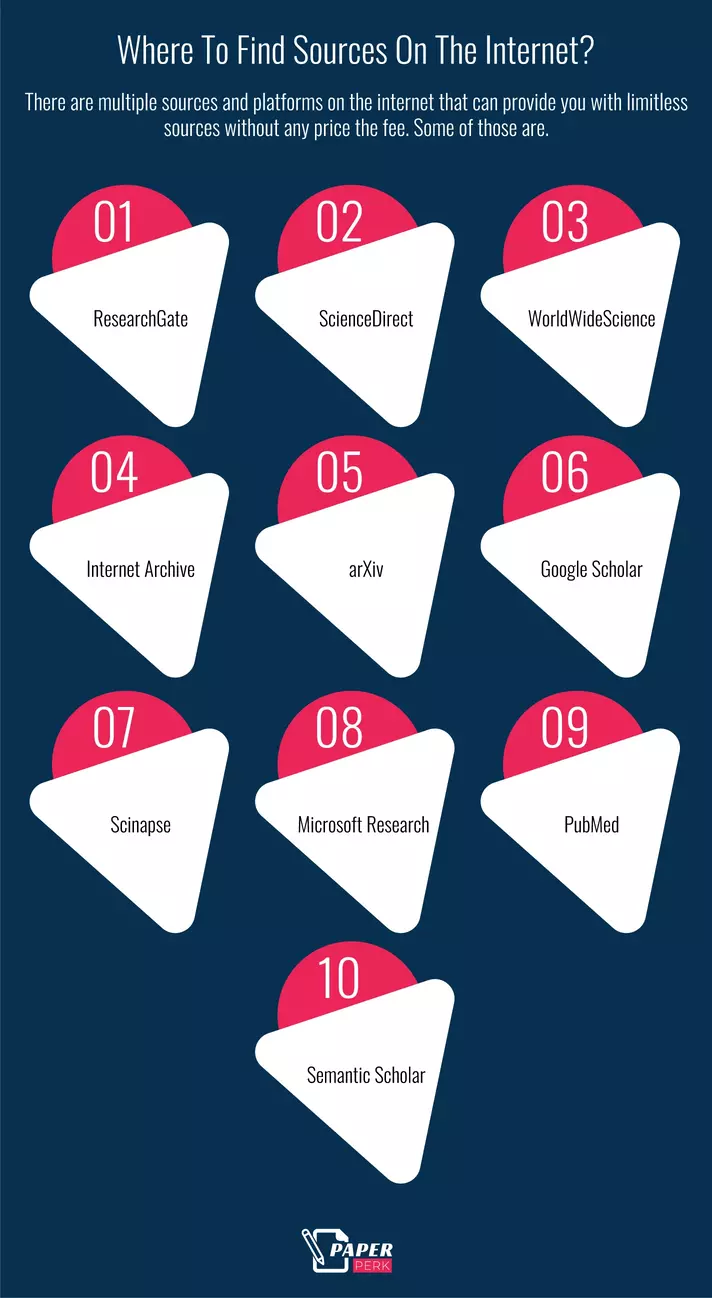 ResearchGate
ResearchGate is a kind of social network created in 2008 by German researchers. In addition to offering exchanges between scientists from all over the world, the service offers more than 135 million scientific publications for network members (more than 20 million registered researchers).
ScienceDirect
ScienceDirect is a portal created in 1997 by the scientific publisher Elsevier to provide access to scientific journals and publications. At the time of writing these lines, the engine counts no less than 19 million articles, 43,000 ebooks, or even 1.4 million articles in free access.
WorldWideScience
World Wide Science is an international search engine that brings together millions of scientific sources from around the world. Since 2010, the tool has even offered automatic translation with Microsoft Translator to help researchers study new sources more easily.
Internet Archive
Internet Archives, as the name tells itself, is a platform that holds and protects all kinds of Internet Archives. It has stored millions of files that were ever shared on the internet. It has huge loads of books, research papers, and academic documents that can provide you with an unlimited source feed.
arXiv
Let's start our list of English-language tools with certainly the coolest: arXiv. Created in 1991 by physicist Paul Ginsparg, the portal brings together more than 2 million scientific articles, mainly in the fields of hard science and economics.
Google Scholar
Google Scholar has nearly 400 million sources, making it the most comprehensive portal to date. It is fed by many connections with external systems (such as the SUDOC in France), and this allows it to be constantly supplemented. In addition, it offers an author citation mechanism as well as a handy alert tool to track specific areas. It's hard to admit, but Google has hit hard again with Scholar. And as if that weren't enough, the firm has launched Dataset Search, which brings together free datasets (or databases) relating to research and academic initiatives.
Scinapse
Scinapse is an academic search engine created in 2019 by Korean researchers. The portal facilitates the search for scientific sources, in particular from Microsoft Research, Semantic Scholar, and PubMed, cited below. It brings together millions of articles in several research disciplines.
Microsoft Research
Microsoft Research is a section specializing in research created in 1991 by the American firm. The web portal does not only bring together publications but a set of scientific information. At the same time, the Microsoft Academic site allowed us to find academic publications, but the latter unfortunately ceased its activities at the end of 2021.
PubMed
PubMed is a specialized search engine for sources in medicine and biology that provides data from the Medline database and other services. To date, over 34 million citations are available online through PubMed.
Semantic Scholar
The Semantic Scholar search engine counts no less than 200 million multidisciplinary scientific sources. Put online in 2015, the project is interesting because it uses artificial intelligence for its ranking of results in order to highlight the most relevant articles in a given field. Google Scholar, there is no doubt that it, is a very powerful and interesting tool to follow.
Read More: Biology Research Paper Topics
Things To Keep In Mind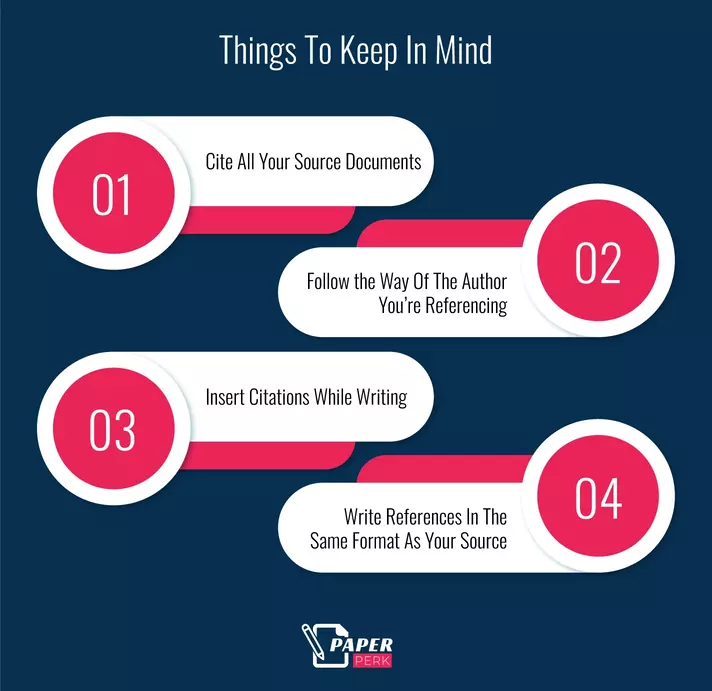 Cite All Your Source Documents
The conduct of a publication project gives rise to the consultation of documents published on your subject. All those that allow you to argue and enrich your main message must be cited, at the end of the text, in the form of bibliographic references, and, in the body of the text, by means of bibliographic citations. Failure to do so is considered plagiarism.
Follow the Way Of The Author You're Referencing
In general, the publishers of journals or works give, in the advice to authors, the indications for writing the bibliography and the bibliographic citations. Apply them scrupulously, under penalty of rejection of your text.
Insert Citations While Writing
Bibliographic citations are indications placed during the text which refer to the bibliography (placed at the end). You will insert them when you borrow arguments from a document or when you quote a text in extenso (in quotes and in italics). Do not wait to add citations at the end. That could cause server negligence leading to unwanted results.
Write References In The Same Format As Your Source
You must write your references according to the type of document. Being careless about it can jeopardize your research and undermine the message you're trying to deliver.
Conclusion:
In the end, there is no one answer to how many references for a research paper are necessary. You can look at your scope, analyze your research and data and make sure you use just enough sources.
You can also consult the best paper writing professionals for their advice on the number of sources in a research paper. Just go to the Paper Perk contact page and leave a message.