How To Cite A Research Paper?
Did you know that more than half of the students do not know the proper citation methods? The reason behind this is digestible since there are various citation styles and each one of them has its particular way of mentioning all the details. So the question arises how to cite a research paper?
It takes a proper procedure and advanced research in citing a paper. You must know everything about the source you are referring to in your research because its major information will be added in the citation. This major information is the name of the author, the year of publication, and the number of pages sometimes if a research paper or a book is quoted in Harvard referencing style.
Still, there is a lot inside to learn about citing the papers and writing the correct details just according to the pattern. This blog will help you get a good grasp of the concept of citations and how they work. We are going to share some useful steps in citing a paper which you can read below.
What is a Citation?
Firstly, you must know what a citation is. A citation is usually the information of the source you use in research to add value. It mentions the name of the author of the source, the year of publication or release, and sometimes the number of pages if it's a book or journal.
A citation is written inside parentheses brackets. It is different as per the several citation methods such as APA, MLA, Chicago, Harvard, and so on. All of them have their own general rules of writing the citations which is why students often get puzzled in understanding the standard method of citing a paper.
What is a Research Paper?
A paper has to be an extended essay that discusses the selected topic in-depth. It usually includes a thesis for a research paper that is justified by conducting research. All of this is done to prove the point of the author and to bring something new to the readers. High school and college students are often assigned papers to complete as a class project.
Why are Citations Important?
It is a question that comes to the mind of every student why citations are important. From the abstract to the conclusion, there are many vital steps in writing the entire content and citations are also one of them. There are several causes of this fact and all of them equally validate the existence of the concept of citations.
The citations provide a direct reference to the source within the text. You do not have to go all the way down towards the references to find that particular book or article that has been quoted in a paragraph of the essay
It briefly introduces the readers to the name of the author, so they might relate to the arguments if they have read the previous work of the author
It gives a sense of satisfaction to the readers as you have not written anything without including proof of the authenticity of your argument
How to Cite a Research Paper?
This is the actual place where we start explaining to you every bit of citing a research paper fast. It might be a hectic process but trust the process when it's going to give you fruitful results. Let's head towards reading the most awaited steps in citing a paper.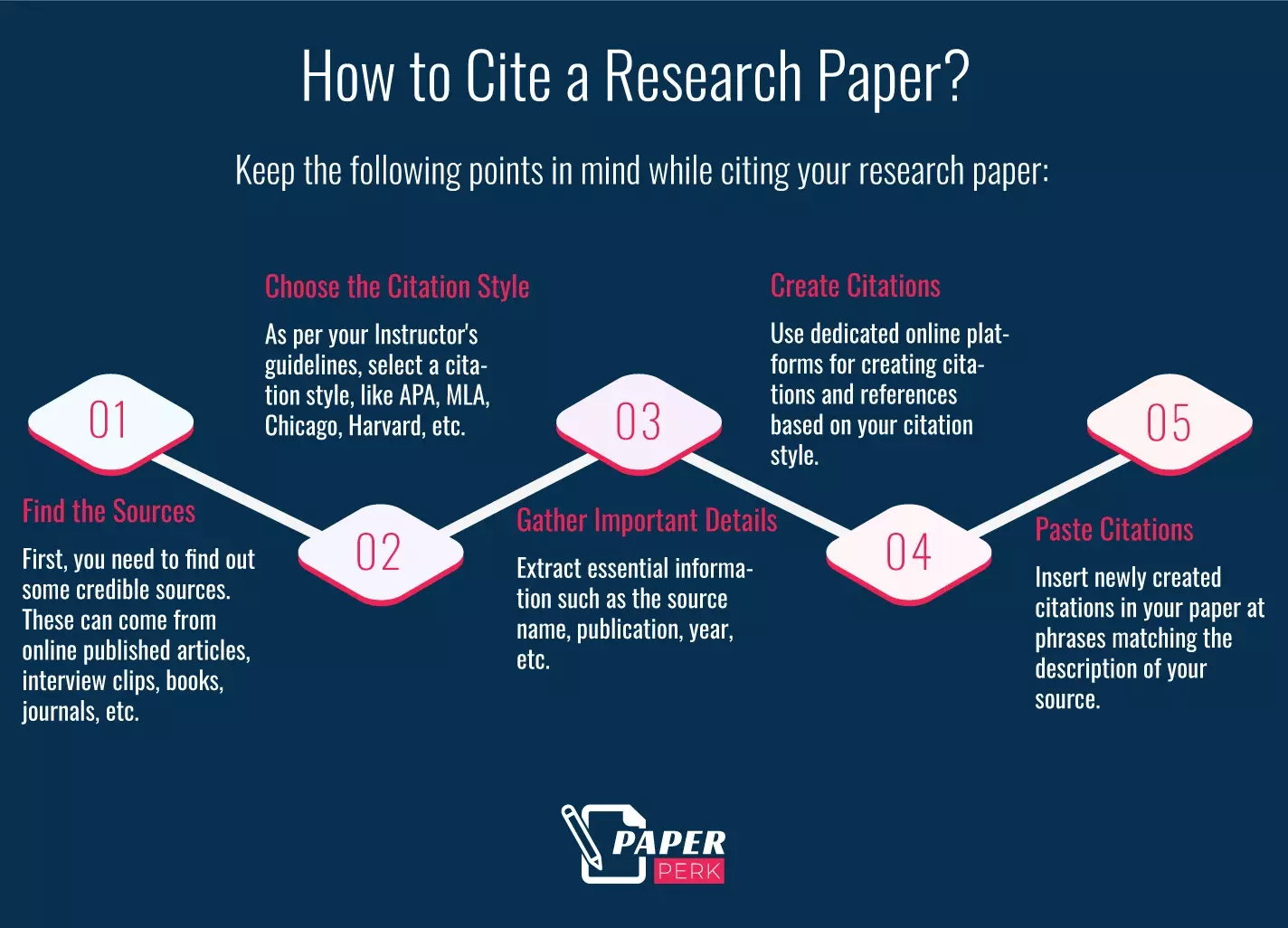 1. Find the Sources First
How come the citations will be added without adding the sources? Therefore your first step starts with finding the sources for your research. These sources could be anyone like the articles published on the web, the interview clips on YouTube or any other video platform, journals, books, or any possible medium which can be used as a source in your research.
Collecting these mediums will sort out the first step and you will have all the things to add to your paper. By finding all the sources you will be able to start writing the paper immediately and then easily write all the citations sequence-wise in your research.
2. Select a Citation Style
There are various citation styles that you must know such as Harvard, APA, MLA, Chicago, and so many more. It all depends upon the instructions given in the brief provided by your teacher, or your personal preferences on which citation style you are going to follow.
By selecting a style you will eventually know what your citations would look like. There are separate writing styles for each citation method and it is highly significant to learn all of them. It is never a good idea to write a citation that does not match the style assigned for your research.
3. Separate the Necessary Details
In writing the citation of a particular style, you must separate the information which is required to be added to it. Some styles only require the year or name of the publication, and some of them require the name of the source as well. So there are plenty of things that need to be taken care of.
You just have to find out what your citation should look like. Separate all the required details from each source and save them accordingly. You will be using them later in adding the citations properly within the content of your research. By separating the elements initially, you will be saving a lot of time and energy of yours to write the paper perfectly.
4. Start Creating the Citations
So how citations are created to add to the paper? There are different methods for this purpose; the first one is the referencing websites. Some websites create citations and references for you. All you have to do is choose the citation style, and add up all the required information of the source they are asking for.
With that information, they create a required citation and bibliography for the research using your provided source. In this way, you just don't have to spend a lot of time doing everything by yourself or finding a correct way to cite your paper. The other method of adding citations is using Microsoft Word which does require some effort of your own. That's why it is not suggested to the students.
5. Paste the Generated Citations
Now it's time to paste all the citations inside your research. As you have managed to generate all the citations one by one, you need to paste them in the right places inside the content of your paper. Just find the source you have quoted in a particular place of the paper, let's just say, the start of a research paper. Just paste the citation of the source at this place and your job will be done.
In this way keep pasting all the citations within the lines where you have mentioned the particular details about them. That's how the entire process of citing the paper completes. You have to carry out these 5 steps in citing your paper successfully and submit your work unhesitatingly.
Example of How to Cite a Research Paper
You have learned everything about citing a paper already in the previous heading. Those 5 steps are ideal to follow for citing any kind of paper or essay you are working on. Now it's time to see some examples of citing research. It is important to know what the specifications of the good citations are in the research.
To learn more about it, have a look at the below-given examples that tell you how a paper is correctly cited.
1. Name of the Author Written Correctly
The major sign of good citations is that the name of the author will be written correctly. Be it just one, two, or more, the names of the authors will always be written in order. There is a certain method of writing the name of the author in different citation styles, so it will be specific for every style.
2. Mentioning the Year of Publication
Have you ever read any citation that doesn't contain the year of publication where it is required? It might have happened a lot of times or you have made this mistake in citing your papers. Sometimes students skip the year of publication in the citation if it is not mentioned in the source. It is wrong to do, here's why.
By choosing a source you don't have when it has been published, you are simply denying a very important detail of the citation. The source might not be authentic if its year of publication is missing. That's why mentioning the publication year is a must when you are citing a paper.
3. Citations Style Strictly Followed
The citation style should be strictly followed when you are citing your paper. It is not possible to add an APA style citation in the text when you are supposed to be writing a Harvard style in-text citation. It is also one of the things done wrong that must be stopped by the new research paper writers.
A citation style is provided to be followed at any cost. The purpose of assigning a certain style is to get a final paper that follows all the guidelines. Not sticking to the given instructions will result in deduction of the marks and grades as well. That is why a student must always stick to the citation style assigned to them by their teacher.
In the conclusion for a research paper, following a style strictly will leave a better impression on the readers since everything in your paper will be so on-point. People like to read something excellent which is written perfectly no matter what.
How to Cite a Research Paper with Multiple Authors
It is somehow the most asked question in the citing process of any paper or essay. Students want to know what to do if they have to quote two or more authors together in a single citation. It is an unusual thing for the students who have been quoting sources with one author only.
Many sources contain two or more authors, and citing them could be a little tricky. As there are several methods of adding citations in the paper, there is a particular one that is followed by most of them. Let's see how you can add more than one author to your citation.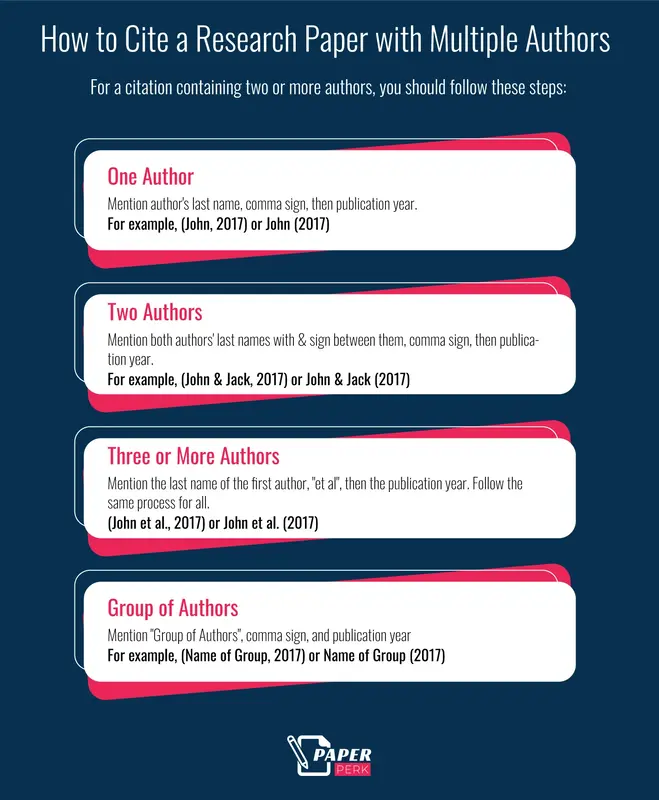 1. One Author
First of all, you must know how a single author is mentioned in the citation. It is the simplest one and literally, nobody will be ever puzzled in writing one author in the citation. The last name of the author comes first in the parenthesis and then a comma along with the year of publication and the brackets closed. It is written as (John, 2017) or John (2017) if you are going to use the narrative style of the citation.
2. Two Authors
Adding two authors is the real deal, you will have to look for a balance between the two and mention both of them. It will be absolutely injustice and immoral as well to not give credit to the creator or author of their work by not mentioning them. That's why it is encouraged to add the names of both of the authors whenever you encounter a similar situation.
You can do it by mentioning the last names of both authors with & sign between them. The rest of the things will fall in place as usual. You just have to change the pattern a little bit by writing them as (John & Jack, 2017) or John & Jack (2017). Doing this will give both of the authors their credit and of course, you will be following a standard method of citation by mentioning both authors.
3. Three or More Authors
Now, this is something that has confused even the intermediate writers sometimes. Due to the lack of knowledge, students do not know what it is like to quote three or more writers in a single citation. It is like a challenge for them and they find it quite difficult. So what is the best way of mentioning three or more authors in a citation?
It is usually done by writing the last name of the first author and then "et al." is mentioned before adding the year of publication. It is done to avoid any issue or include so many names in a small bracket. It looks like (John et al., 2017) or John et al. (2017). It is quite simple actually, you just need to know the correct method of writing a citation. The number of authors does not matter at all in this deal.
4. Group of Authors
This is another category you might have never heard about before. There is sometimes a need to add a group of authors in a citation and students get blank. It is also not so difficult since a proper method is already given for it.
If you have to add a group of authors in your citation then the name will be already given in the respective source. You just need to add that group name instead of the names of any specific authors. For instance, (Name of Group, 2017) or Name of Group (2017) will be the correct method of mentioning a group of authors in a citation.
That is how you can mention a lot of authors in your work. If there is a single citation and you need to add the names of so many writers, then use the above-given techniques and leave the best impression on your teachers. By following these ideal methods of adding citations, you can earn the best grades all because of your in-depth knowledge of citations.
How to Cite a Research Paper in Harvard Style
Harvard referencing style is just another method of writing the citations and bibliography in the research. It is a bit different from the APA, MLA, and Chicago. As you have seen, most research paper service providers use the Harvard citation style, like nursing research paper service, history research papers, etc. It has particular characteristics that you will learn in this method of citing a paper in Harvard style.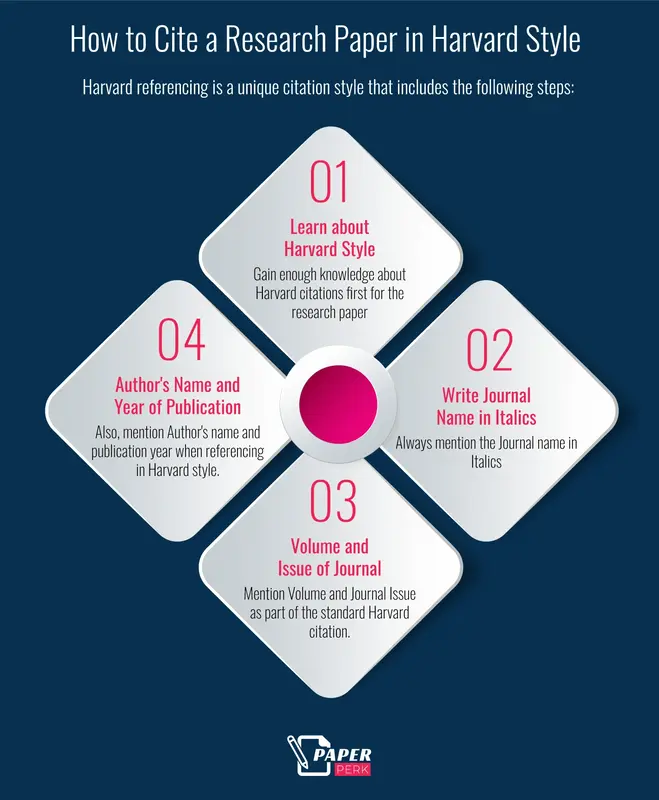 1. Learn Everything About Harvard Style
Firstly you must know everything about the Harvard style of citations and references. Without doing this you won't be able to write anything in this particular style. You must have to know what it is like to cite sources in Harvard style before you move on to implement it in your research.
2. Write Journal Name in Italic
As the journal name is mentioned in the citation, it should be written in Italic font. It is required to be done in writing the citation in Harvard style.
3. Volume and Issue of Journal
This detail must be present over there since it is part of the standard citations written in the Harvard style.
4. Author's Name and Year of Publication
As usual, you need to get this information too to complete your citation.
Conclusion
These tips on citing the paper can change your entire perspective of yours in adding citations. We hope it has become a bit more fun for you to cite your research easily. All these steps and particular details can help you get better grades and well-deserved recognition from your teachers.
Let us know if you need any paper writing help or have questions.