How to Start a Research Paper?
Imagine having a paper assignment for your college that is due in a week. You're about to start writing it, aiming for a top grade in your class. But wait! Are you familiar with how to start a research paper? If you are still struggling to find a suitable way of starting a paper, then you are reading the right blog.
There are a lot of things that we are going to share with you that will help in starting a paper. For the bonus ideas and excellent techniques, keep reading and making notes for your next paper.
What is a Research Paper?
Before starting the actual discussion, it's best to know the basic structure of a research paper. It is a long-form essay that contains critical analysis, plus complete research to conclude.
In this kind of paper, you have to conduct proper research before choosing the best topic for the research paper. A thesis statement is a basis for starting the paper that must be justified by the end. The research is the most important element of this paper which is focused thoroughly.
How to Start a Research Paper?
One of the most important sections of a research paper is its introduction. It's the art of starting a paper since a hook is required to engage the readers in the very beginning.
There are several ways of starting a paper and one of them is pre-planning of writing the content. There are several ways of starting a paper and a few of them are mentioned below.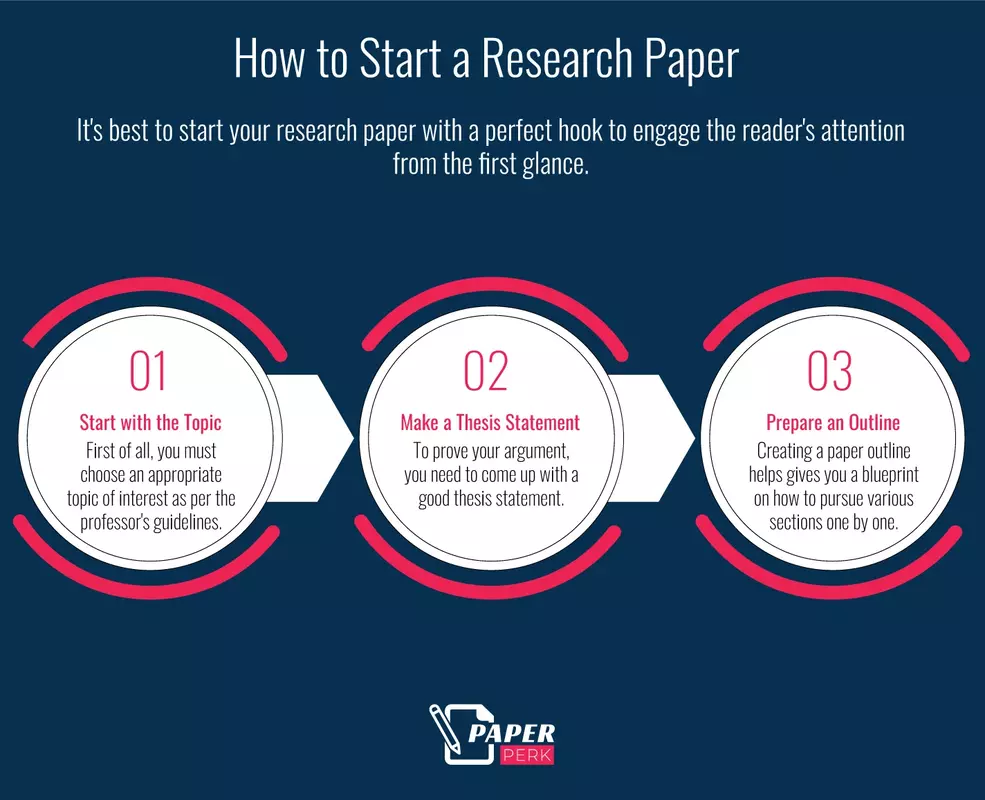 1. Start with the Topic
There is no use in starting any paper without finalizing the topic. A topic is the first thing that a student must decide when starting a paper. After all, it's the only thing your entire paper will be depending on.
There are a number of methods of choosing a specific topic for your paper. You can do it by checking out the instructions provided by your teacher, your personal choice, and the scope. Depending upon these factors, you can finish deciding a topic for your paper to move forward.
2. Form a Thesis Statement
The next step is forming a thesis statement for your paper. Research cannot start without a good thesis statement because your paper has to prove your stance with the help of arguments and evidence. That's where you need a to write a thesis for a research paper, to begin with, your paper.
It is one of those factors which decide the credibility of a research. That's why all the students are advised to do some preparations in order to start writing the paper on a solid basis.
3. Prepare an Outline
There is no better way of starting a paper than making an essay outline. It is the best thing you can do before starting a paper or even the research. It eases the writing process a lot and boosts the entire process for the students.
There are a lot of benefits of creating the outline before starting the paper. Out of all of them, one is the smooth research process. When you have an outline prepared for your essay, you find it easier to do the research for each part of the paper. It is good to have a scheme in your mind so your research is completed suitably.
Another one is having a direction in the form of a roadmap. Your outline will provide you with a complete plan to write your paper. In this way, you will never get distracted, and have a great method of writing the paper.
So these three methods can help you start an excellent paper that turns out to be excellent. No doubt it's a guaranteed way of starting a paper that gets you the best grades.
Interesting Ways to Start a Research Paper
Now there are some highly interesting methods of starting a paper that stands out. Some of the interesting ways of starting a paper are given below so you can learn the hacks of writing a good quality piece of writing.
1. Make Up Your Mind First
What's better than starting something by making up your mind first? You have to make an entire plan in your mind regarding your essay or paper. The plan starts from the mind first, and then goes into a paper or digital document.
What you can do is start thinking about what your paper will be about. When you plan something, there are 100% chances of getting the best product as a result. Decide what you want to write about and how you want to write a research paper. In this way, you can have a very interesting beginning to writing your paper.
2. Look for New Ideas
You can always look for new ideas to get inspiration. It is never bad to do more research and derive something really interesting for your next essay. Many students indeed prefer using the most common topics to start their papers but it is always better to try new ideas.
It could be done by doing enough research and finding out ways that could make your paper more exciting to read. You can do it by surfing the internet, reading more papers, and taking inspiration from your seniors as well. Anything around you could help if you want to start your paper differently.
Therefore, it's always better to be creative and find new things that add value to your paper. The more interesting the way you find to start your essay, the better response you'll receive from your teacher.
3. Write Everything Down
It's important to write down everything on paper so you don't forget any point. It is one of the interesting ways to start writing a paper because you write what you think is good for your essay.
Making notes has always been a good habit adopted by bright students. So whenever you learn about new ideas for starting a paper, make sure to write them down for reference.
4. Create a Powerful Claim
A claim or a thesis statement has to be the beginning stage of writing the paper. The entire paper depends upon a good statement for which the research is done. You must have a powerful claim to put forward so your essay becomes highly interesting to read from the start.
How to Start a Research Paper Intro?
This is an ultimate question that many students ask from Google (Yes, we will address it in our way). There are many ways to start the introduction of a paper which you must know about. Have a look at these highly interesting ways to start an introduction which you can use as a history research paper help or for any paper help.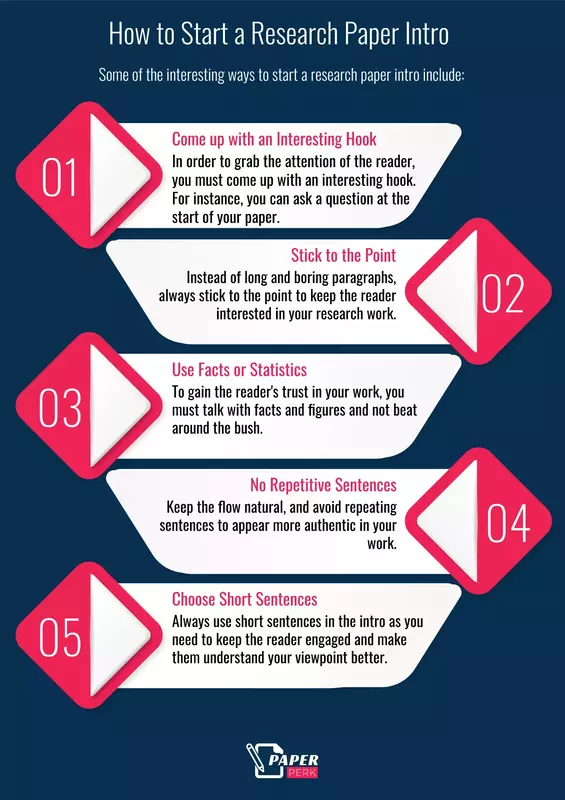 1. Decide an Interesting Hook
An introduction is incomplete without a hook. A hook is an engaging track that keeps your readers interested in reading your essay. The title of this heading itself has the word "interesting" in it because this is a great way to start the introduction of a paper.
It has to be really catchy and captivating enough to grab the reader's attention. Though there are some other techniques for starting an equally good introduction. However, adding a hook in the very first sentence of the paper does magic and the feedback of the readers proves the point.
Your perfect hook could be an interesting fact or a simple question. Asking questions gives a boost to the curiosity of the readers. Therefore asking a question in the first sentence of the introduction can help you turn readers into your fans.
2. Stick to the Point
Making the introduction interesting is a thing, but it never emphasizes adding lengthy paragraphs or a detailed background story. The hook must be short and to the point for the introduction. It is the same reason why sticking to the point is extremely important in the introduction of your paper.
Someone who has opened your essay to read will not care about the tons of details you have mentioned in the introduction. It also makes no good difference but leaves a poor impression. That's why it is condemned to use big paragraphs in the introduction.
You must stick to the point and only state the necessary facts. There is no space for useless or least important factors in an introduction because nobody likes reading them in the first place.
3. Use Facts or Statistics
These two elements, facts, and statistics are both highly appreciated when used in an introduction. As we talked about the hook in the first very point, the use of facts and statistics makes the introduction even more interesting for the readers.
What happens is that using such tricks helps awake the interest of the readers. When they read a specified number regarding a particular thing, they trust you more. They understand you have ample information about your topic and whatever is written in the entire paper will be 100% authentic.
Such points grab the attention of the readers and they become prepared to read the complete essay. That's why this is one of the most interesting ways to start your introduction. The readers definitely won't resist any such paragraph which contains statistics or important facts.
4. No Repetitive Sentences
The most annoying thing in an introduction is the repetitive sentences. Most of the students keep repeating a single thing twice or thrice in their introduction which makes it quite regular and dry to be read.
You should also make sure you never repeat one point ever again in your introduction. Doing so will help your readers get clear information right in the very first part of the paper without getting confused or bored any further.
Try to bring new and freshness to every other sentence of your introduction. The readers are looking for more and more details in every sentence rather than a dull paragraph that makes no sense at all.
5. Always Choose Short Sentences
Long sentences are never attractive to the readers; they usually get bored with reading lengthy sentences. If you plan on engaging your readers right in the start, make sure you use only short sentences.
It is better, to sum up, your ideas in fewer words. It saves the time of the readers and gives them the freedom to read as much content of your paper within a few minutes. It is easier to understand an essay when it is started with a clear-cut stance and goes towards providing direct information about the topic statement.
That's why you should go with short sentences. Each sentence may have 8 to 11 words, or more semicolons so you can discuss your point in a flow without putting a full stop to one sentence. This technique will make your readers fall in love with your style of writing.
How to Start a Research Paper about a Person?
A paper written on a person is quite a rare thing as compared to writing an essay about any certain topic. Detailed research on a person can prove to be highly gripping for the readers since many readers like to read about a famous personality.
There is a particular method to start a research paper about a person. We are sharing some golden tips for you that might help you write a good beginning sentence for your paper.
1. Choose Subject You Know Well
First of all, it is necessary to choose a person you know well. You cannot simply work on writing a research paper about someone that you're unfamiliar with. The very first rule of writing an essay or paper on any personality is that you know them very well.
It is not the right decision to choose the person you have the least information about. That is why the students are suggested to go for a subject they already know well, for example, the background, achievements and many other facts.
2. Start with Proper Research
If you are going to write an essay on a person without doing proper research, it's going to be the worst thing you can do to start that paper. It is very important to write something after confirming it from various facts. It is ethically not considered correct to state any fact regarding someone without having any proof of authenticity in the city.
Therefore your piece must be written with proper research regarding the person you have chosen to make your topic. Having complete research done will save you from many inconveniences, making your paper excellent to read.
3. Start the Introduction with Exceptional Remarks
When you are introducing somebody to your friend circle you use the best words for them. Similarly, in writing a paper about a person your introduction must have a warm tone when describing that person. In the very introduction as it is the starting of the paper, you must start with a very engaging description of the person.
In this way, your audience will be more interested in reading your paper. It is all about writing what readers want to read, so keep it candid yet formal in a manner that your subject looks positive to the readers.
Example of How to Start a Research Paper
There are many facts in the introduction of the paper. Some experts suggest starting with complete research, some people advise to write only positive aspects of the subjects and so on.
Here is an example of starting a paper in a suitable manner that is immediately approved by your teacher.
1. Design a Title Statement
Writing a paper must begin with designing a good title statement. Most of the students end up taking up simple topics for their papers which eventually does not leave a good impression. You need to go a little extra to start your essay in an exciting way which is particularly designing a title statement.
2. Don't Forget the Thesis Statement
How can you even start a paper without having a thesis statement for it? It is a single statement that holds the significance of the entire paper. No thesis statement means no research and no paper at all. The existence of the research you do starts with the formation of a thesis statement, so create one before heading towards other tasks.
3. Keep a To-do List
You must always know what you are going to do next after completing one stage in writing a paper. That's why a plan is required to follow so you never get puzzled at any stage of completing your paper.
It could be formed as a rough to-do list and followed during the entire writing process. You can also make a specific outline for your paper to note down all the necessary details for writing the paper.
Having this list will keep your mind straight and engaged in writing your paper in a particular way. That's how you can complete your paper without getting distracted and confused throughout the writing.
Conclusion
The mentioned tips are a must for the students since nobody can pass any class without submitting a unique, good-quality paper. Now you must have known how to start a research paper properly. You can just read the content and start with these amazing steps to write the best introduction.
You can also get paper writing service from our expert writers, in case you want to outsource your effort and time.