How To Title A Research Paper?
Have you ever thought about why it is always difficult to tile your research? It's a highly confusing task that doesn't let the authors proceed with the research without having a brilliant title. A lot of students in high school and college often question how to title a research paper?
It is tough but there is always an easier way too. There are some useful steps involved in writing the title of a paper that you might haven't learned before. We have a lot to share with you so next time you do not get stuck at a very interesting step of preparing for your research.
What is a Research Paper?
A paper is usually a long-form essay that is written on a particular topic. You just need to choose a genuine topic and create a compelling thesis statement that seems to be logically strong. You may conduct the research to write a research paper and justify your statement.
Why Titling a Research Paper could be the Hardest Job
Most of the students complain about this and believe there is no proper way to suggest a valid research topic. Most of the time, they cannot figure out what makes a good research title.
It could have some particular reasons behind which are given below. Read them once, maybe you badly need them to understand what you're missing.
1. Lack of Research
You may have done very little research which doesn't fulfill the purpose of finding a suitable title for your research. Sometimes students do not bother doing enough research so they find it difficult to start the research.
It is impossible to begin the research without having a topic, so to do it you need to put time into good quality research. Once you are done with it, you'll find it less difficult to choose a topic for your research. Just see what can be of your interest and start researching to get onto it.
2. No Personal Preferences
There is another problem that might cross your way in giving a title to your research. If you do not have any personal interest in choosing a certain subject and then narrowing it down, you are going to face a lot of trouble in this process.
You must already decide what field or subject interests you in particular and you can choose to conduct your research. It is highly important to have your preferences while choosing a topic for your research. Without this step, it is impossible, to begin with, the work and you will end up having no title for your paper.
3. Zero Background Knowledge
It is a thing that can be reciprocated but it does have adverse effects if you are trying to choose a topic for the research without having some background knowledge. By this type of knowledge, we mean having known the skill of titling research.
It is as simple as how you are even going to name your research if you do not know how to do it. Students run away from the research work and paper writing because they have zero background knowledge and do not know how to start a research paper.
4. Pressure
Yes, the pressure could be a real deal too when you are trying to find a suitable title for your research. As it's the most significant part of the research, it is automatically logical to feel the pressure of selecting a title that is good enough for conducting research.
This kind of pressure can be avoided by taking it lightly and putting all the attention into the useful part which is background research. The more you will do it, the better you will get at finally getting a title that is best for your research. The good things always take time to happen, that's why make sure to put in sufficient effort and time to get a perfect research title.
How to Title a Research Paper
The most awaited question itself is here to get you the absolute explanation. You have opened this blog to read this section and learn how to title a research paper. We won't make you wait any longer for it and provide you with the best tips you could ever find. Let's have a detailed look at all the steps.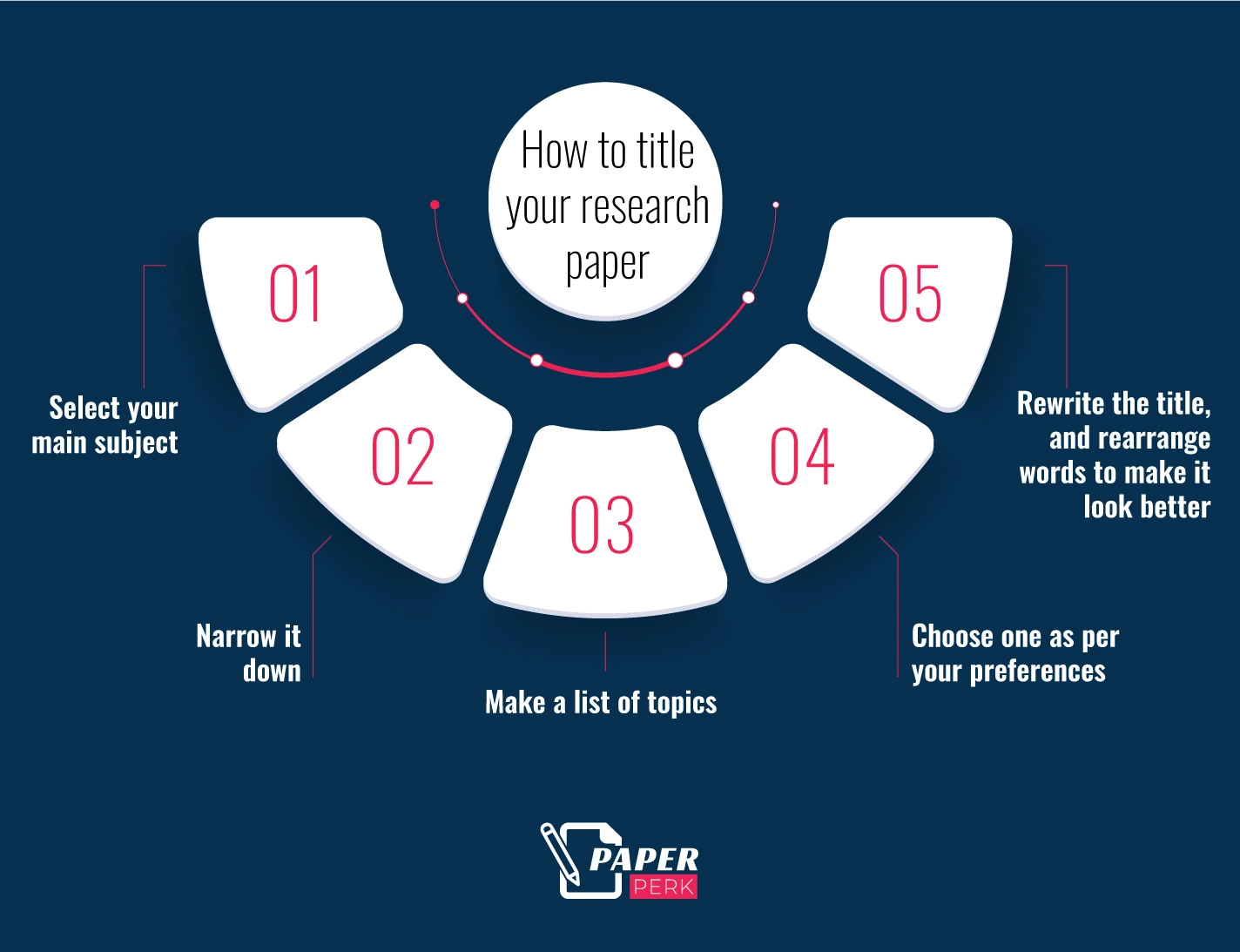 1. Select your Main Subject
Your main subject will help you the most in easing this process and almost selecting a title for your research. Without the main subject, you cannot even start the research for a certain topic. All you have to do is make up your mind and try to think about what you want to write your research about.
Is it something related to education? Or is it the politics that interests you? There are so many fields and majors in which you can choose to start your research. It is necessary to know what subject you like the most so you don't have to stress out later in selecting a narrowed-down topic.
It is that important as well as simple to begin a quest for a research title. You choose a major and then narrow it down to find out what interests you the most. This is the initial most helpful step that can provide you convenience in choosing a better topic for your research.
2. Narrow it Down
It's time to narrow down your subject and explore it properly. You may take the help of books, the internet, your classmates and your teacher. Anything and anyone could suggest to you what is the best topic for your research as long as you end up agreeing with them and have the same choice.
So to do it, you need to find out all the possible topics and collect them for the actual process. With this thing, you can get a lot of options to choose from and it is way easier than getting stuck on finding any possible topic for your research.
3. Make a List
As you have finally found all the topics for your research, make a list of all of them. Why is it important? Because you have to have all of them in one place to choose the best title for your research. Just start with choosing a title that you find interesting and suitable to conduct your research.
4. Choose the Title, Finally
Now as you have an entire list of all the titles, it is up to you what you are going to finalize. You can have a detailed look at each topic and then choose one which is highly useful to conduct your research. You can find one topic now easier because you have narrowed down your subject and written options, all of which are absolutely interesting.
With this step ends, you will finally have your research title. Now it's your job how you want to keep it. Either let it be whatever the way it is rewritten, or do some experiments and try to write it in an even better way. Everything's possible!
5. Rearrange, Rewrite
There is an art of rearranging the words to get your most perfect statement. You may arrange the words in a significant way to add more value to the title. Just try to not prepare a topic but a title statement that leaves the readers stunned.
All you have to do is take your research title and analyze how better it could be written. You can add new words or remove them, and think about a better way of describing your title and presenting it to the readers. Your mind will automatically give you signals that what's comparatively better must be written as the main title of your research.
Afterward, you will finally be successful at writing a title for your research. It might take some time but it's all worth it in the end. You will have a good way to start your research which sounds refreshing.
How to Title an APA Research Paper
There are different methods of formatting a research paper, and you must know that. It includes APA, Harvard, MLA, Chicago, and so on. There are plenty of them, but the real deal is the word "research" over here. We are talking about giving a title to a particular paper; you can also take a history paper or medical research paper help from experts, no matter what format it has been written in.
Here are the following methods to title your paper.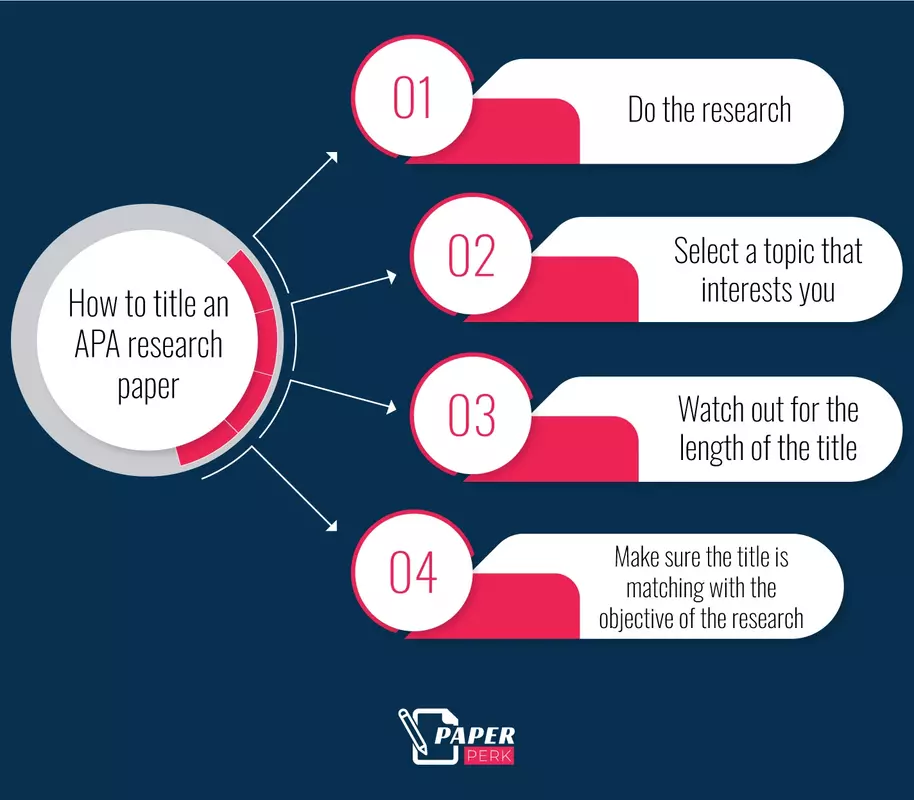 1. Do the Research
Without a significant amount of research, you are not going anywhere no matter what the actual job is. You must do enough research and then come up with a topic. It is the best thing you can do as a student who has been assigned really important research for the final project.
2. Choose What Interests You
It is no use choosing a topic that you do not find interesting at all. It is technically difficult to research a topic that you do not like personally. That is why in every place students are free to choose a topic for their paper. You can do research, explore their personal choices and see what you find exciting.
With the help of this technique, you can find a topic that you can select for your research. The title will automatically become the best one since you have enough knowledge about it, or you have chosen it as per your preferences.
3. Watch Out for the Length of the Title
It is never suitable to write a lengthy title at all. You are writing a statement that should be precise and to the point. It has to be clear and descriptive within a few words. Most of the students end up writing a title consisting of 15 or more words, which is a wrong practice.
The correct way of writing a research title is to keep it concise. Rather than having 15 words, you must try to adjust it within 8 or a maximum of 11 words. It is the ideal number of words for any research title. It won't be able to make its way to the reader's attention if it is not well-written.
4. Make Sure the Title Matches the Purpose of Research
How is it going to be valid if your title and the research both do not match each other? You have to choose a topic that directly fulfills the purpose of the research and doesn't deviate from the actual objective.
Therefore you must make sure that you are selecting a topic that relates to the purpose of the research. Whatever is going to be done in the paper must make sense with the title. A title must be chosen to make sense and have a good relation with the content of the research.
Examples of Research Titles and Problems With Them
We have talked enough about writing a good research title but what if you need to see the practical examples of a good and bad research title? We know it's going to be another favorite part for you since learning about the mistakes so you don't repeat them in the future is the best thing you can do.
This kind of learning is underrated but at least now you are going to do it so you never write a bad research title again. Head over to these examples and see what's wrong with these particular titles.
● "A Study on the 12 Tenses of the English Language and Why Students Find it Highly Difficult to Acquire Language based on these Tenses"
This is the first-ever example of a research title and you might have figured out what's wrong with it. As we discussed earlier above, a title should be precise and to the point even if it has to be a statement. Writing a title statement never means you write a 26-word long title just like this one.
It has 26 words in it while the ideal number of words suggested for any title is a maximum of 11. Some teachers also show some leniency and allow students to write a title of up to 15 words. But it's not always valid in many situations so you must stick to an ideal length. Writing a brief title is recommended and this will hep you to organize a research paper easily.
The above-given title is too lengthy which makes it impossible to add it to your research. You just cannot end up with a topic that looks like this because, in the end, your research will be getting zero value and appreciation from the readers.
● "What is the difference between this and that?"
Apparently, it is a question that has been used as the title of research but don't you think it's too simple and doesn't even sound like a title of proper research? When it could have been better, it is poor at the moment and nobody can deny it.
Writing question statements as a title is encouraged. Having a plain statement that doesn't look effortlessly good isn't suggested at all. Your title must have some value, we know we asked you to stick to the point that it doesn't mean to write a short and meaningless statement as the title of research.
You can make it better by using colons and arranging the words in a particular sequence. You can do it by following our tips and rewriting the title until it becomes perfect and highly professional to be added to the top of your paper.
Examples of Research Title for High School Students
You have surely read enough about the formation of research titles and now you would want to see what good topics look like. You want to have some suggestions on research titles for high school students.
Seeing this one be a highly asked question on Google by students, we are going to add some complimentary research titles for you in this blog. Might be possible for you to end up choosing one of these titles for your next research.
Education
The significant role of education in the life of a person
A comparative study between an educated and uneducated individual
The impact of the online education system on the high school students
Health
The compromise on the health and challenges a human's body has to experience because of it
The significance of a better lifestyle and exercising
How poor health conditions are a reason behind more diseases
Politics
How is politics harmful to the students?
Why must education and politics not be correlated?
Reasons people want to get into politics
Human Rights
The actual reasons behind the endangerment of the human rights
Why human rights are on a verge of being neglected entirely
Why human rights organizations are failing so badly
Crimes
How important is it to hang criminals as per the extent of their crimes?
What judiciary says about terrorists and their punishment?
A study on what circumstances lead an individual to turn into a criminal
These few topics may help you understand what kind of topics students in high school must choose. These are the simplest ones and turn out to be interesting for the students of this level. You can get paper writing help from world class writers to ace your grades.
Conclusion
Now we hope you have found several ways and know how to title your research paper. This blog has described all the incredible tips so that you get a proper guide for titling your research.
If you have something more to ask or want to share your own opinion, leave the comments below or consult our expert research paper writers since we love to hear back from our readers.