How To Write A 10-Page Research Paper: Some Of The Best Tips
You're finally writing your research paper. That means you're done with reading and absorbing knowledge and are ready to contribute some of your own. It is inspiring, and there are no two opinions on that. However, all things come at a price, and all exciting things come with challenges. Especially when you are faced with the question of how to write a 10-page research paper, that sounds like strict guidelines, and we can understand your concern.
How To Write A 10-Page Research Paper Fast?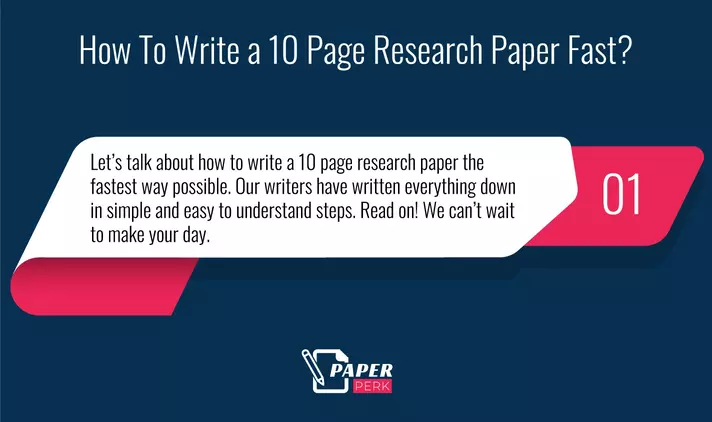 You have been procrastinating because for weeks, and now the deadline is closer than ever. It's a natural phenomenon. Sometimes even the best of us keep delaying the things that challenge us and force us out of our comfort zones. Trust me; we know the feeling. Even our writers are prone to such problems and writer's block. Now it's getting late. Let's bury all these worries for a bit and talk about how to write a 10-page research paper the fastest way possible. Our writers have written everything down in simple and easy-to-understand steps. Read on! We can't wait to make your day.
Read More: Accounting Research Topics
How To Write A Research Paper By Breaking It Into Smaller Parts?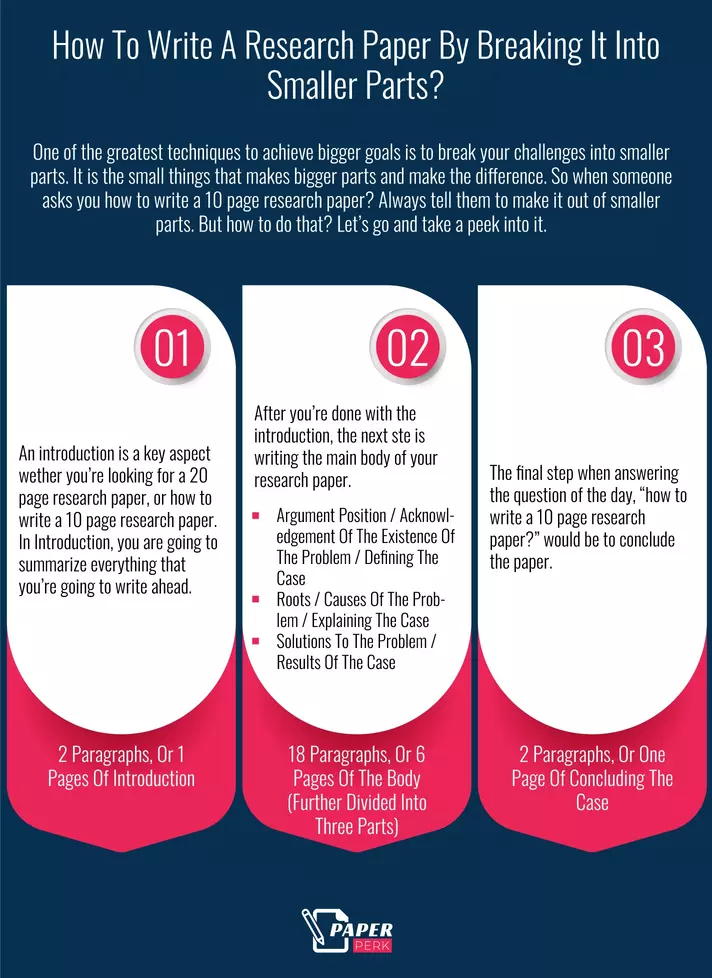 One of the most remarkable techniques to achieve bigger goals is to break your challenges into smaller parts. The small things make more significant parts and make the difference. So when someone asks you how to write a 10-page research paper? Always tell them to make it out of smaller pieces. But how to do that? Let's go and take a peek at it.
2 Paragraphs, Or 1 Page Of Introduction
An introduction is a crucial aspect whether you're looking for a 20-page research paper or how to write a 10-page research paper. In the Introduction, you will summarize everything you're going to write ahead. For a 10-page research paper, the ideal introduction size would be a single page. A single page typically consists of two paragraphs. Being comprehensive is the key, and you want to remain right on the topic. You won't have much space like a thesis or dissertation. Try to be brief and concise and cover everything you can within a single page, between two to three paragraphs.
18 Paragraphs, Or 6 Pages Of The Body (Further Divided Into Three Parts)
After you're done with the Introduction, the next step is writing the main body of your research paper. But how to write a 10-page research paper body? Well, that's easy. Remember that you have six pages to spare for this task. You will have to suffice within this given guideline. We will break this into three further steps.
Argument Position / Acknowledgement Of The Existence Of The Problem / Defining The Case
The first two pages of the body acknowledge your stance on the issue or phenomenon you will talk about. You have to understand your position and the problem's existence in the observations and experiences. You will utilize most of the data that you collected in this part. What are your arguments, and what makes them essential? Are there any researches that have come before? 6 Paragraphs of this lot, more or less two pages, would be a great length.
Roots / Causes Of The Problem / Explaining The Case
What is it that motivated you to choose this problem? Why this problem exists, or what caused the phenomenon in our discourse? In this part, you can include surveys and interviews with your audience and record your observations related to root causes. This is the most critical part of your research as it is based on public opinion. In a democratic state, there is nothing more important than public opinion.
Solutions To The Problem / Results Of The Case
Now we know the problem exists, and we also see the root causes of the problem. The final step in the body of your ten pages research paper is to define a solution. We must remember that the primary purpose of research writing is more than just finding a problem and extending it. A good research paper will also propose a solution and many answers to the existing questions. The final part of your body tells the reader how we can solve this problem, what measures we need to take, and what the solution will lead to.
2 Paragraphs, Or One Page Of Concluding The Case
The final step when answering the day's question, "how to write a 10-page research paper?" would be to conclude the paper. We bet you already knew that. Just summarize everything you have written before in the final two or three paragraphs, in more or less 1-2 pages, and your paper is complete.
Read More: Psychology Research Paper Topics
How To Write A 10 Page Research Paper in 10 Steps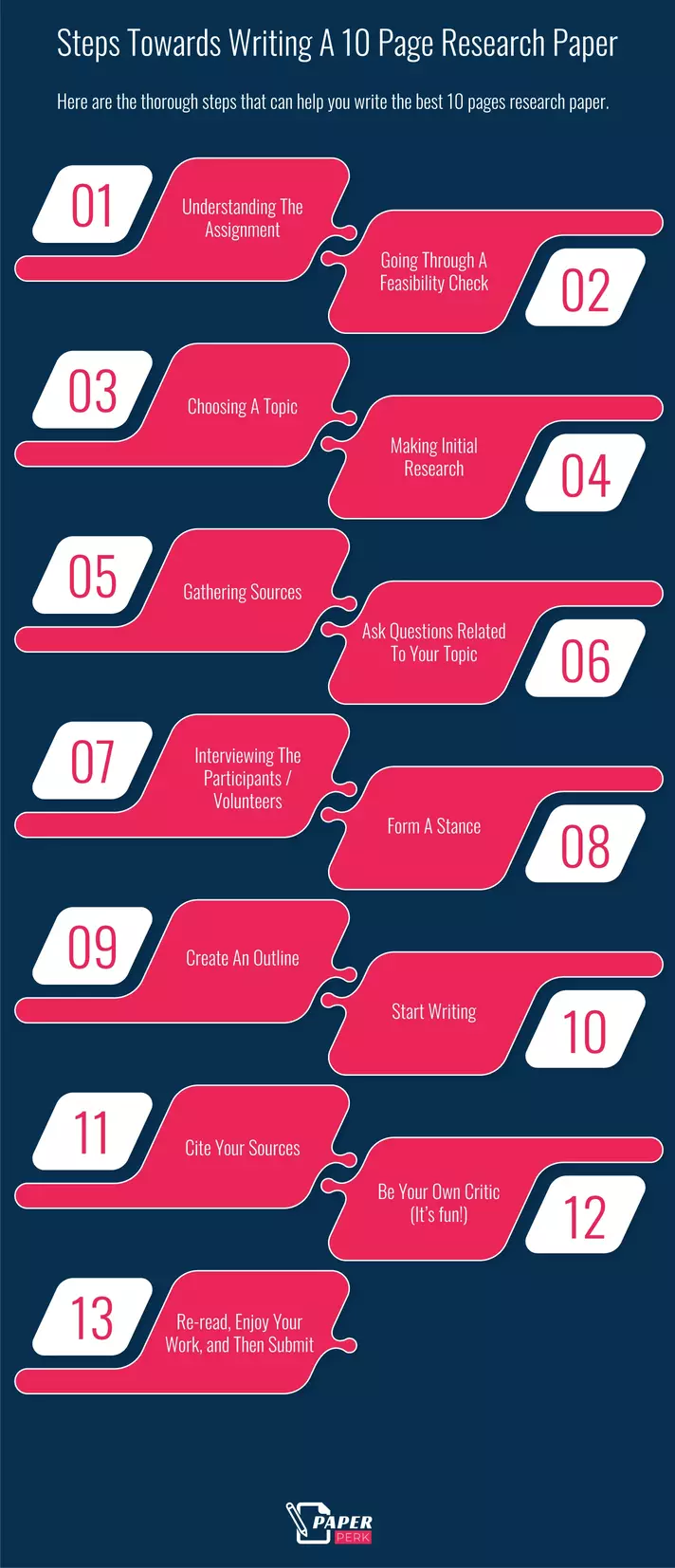 Understanding The Assignment
You got the assignment. Congratulations! Because that means you're finally finishing your year and going a step further. There is no time to hurry that much. Sit back and breathe. Keep calm and look at the given assignment. Consult a couple of friends. Even ask a couple of questions to your supervisors. Once your confidence is built, it will take no time to get a hold of the assignment.
Going Through A Feasibility Check
Once you have understood the assignment, it is best practice to check if it is a feasible topic you will discuss in your research. Has there been enough data available that you can use? If there is a lack of data and previously published research on your topic, you will not be able to finish the study. If there is too much redundancy, you might find a lack of interest from your institute.
Choosing A Topic
Choosing a research paper topic is a critical decision. It can be frustrating when you can't come up with anything and you end up with a blank page. But there is a way to get over writer's block and choose the topic that will get you thinking.
You can Google "research paper topics," and you will find a lot of options. The first thing you need to do is to decide what interests you. If you are facing writer's block, choosing the topic that triggers your thought process is essential. If you are interested in education, you might want to select a topic about education reform. If you are interested in politics, you might want to choose a case about the 2016 presidential election.
By following these steps, you can get over writer's block and choose a topic that will get you thinking.
Making Initial Research
Once you have chosen the topic, it is time to research it. You don't have to do much research, but you need a general idea of your writing. If you are writing about the 2016 presidential election, you might want to read articles about the candidates and the campaign. Looking into some political science research topics will help too. If you are writing about education reform, you might want to read articles about education systems worldwide.
Gathering Sources
When writing your research paper, it is important to use credible sources. Credible sources are those that you can trust to provide accurate information. You can find credible sources by doing your research or using the resources provided in this guide.
When you are doing your research, be sure to use reliable sources. A reliable source is one that you can trust to provide accurate information. You can charge a reliable source if you have read and understood the article or spoken to someone who has read and understood the article.
Ask Questions Related To Your Topic, Talk To Your Sources
Collecting data for your research paper can be daunting, but by taking a walk around and asking questions to people, you can get a lot of valuable information. Even a non-specialist could provide you with a lot of data and insights.
One of the best ways to collect data is to ask people their opinions on some issues. You can do this through surveys, interviews, or even talking to community members. This information can be used to help you understand your audience, as well as the issues that are important to them.
Interviewing The Participants / Volunteers
Once you have determined your sources, you will need to prepare a list of questions to ask them. This list should be tailored to the individual basis and reflect the information you have determined about them.
When interviewing your sources, it is essential to be respectful and attentive to their time. It would be best if you also were prepared to take notes during the interview and be prepared to ask follow-up questions.
By interviewing your sources effectively, you will be able to provide a more in-depth and accurate account of the topic you are writing about.
Form A Stance
It is essential to have an understanding of your position. This means that you need to know the facts about the topic and be able to articulate your thoughts on the matter. When you can express your thoughts, you can defend your stance and be more likely to find accurate information.
Create An Outline
An outline is one of the essential tasks in writing research papers. It helps you stay organized and focused and makes the writing process more manageable.
There are a few different types of outline, and the one that's most effective for you will depend on the kind of paper you're writing and your specific writing style. However, some general tips will help you create an outline regardless of the type of outline you use.
One of the most important things to remember when writing an outline is to keep it concise. Don't include too many details in your strategy, or you'll quickly become bogged down in a sea of information. Instead, focus on having the main points of your paper and then expanding on them as you write.
Also, be sure to outline the main points of your paper before you start writing. This will help you stay on track and avoid getting sidetracked. Once you have a rough outline, you can begin filling in the details.
Start Writing
All the daunting tasks are almost finished. Let's get to writing your research paper. You already know how to write a 10-page research paper. If you already know the answers and everything you need, let's put them down on paper. Remember to take breaks to avoid burnout.
Cite Your Sources
"Always remember to cite your sources. Your sources are the people and institutes that provide you with data. Ignoring them would be severe injustice and will be considered an act of plagiarism."
Plagiarism is a severe offense and can result in a loss of academic credibility and future opportunities. It is, therefore, vital to be aware of the guidelines for citing and to follow them correctly.
When citing a source, always include the following:
The author's name.
The title of the article or book.
The page number(s) where the information can be found.
It is also essential to include the date of publication.
Be Your Critic (It's fun!)
You're almost finished. Let's have a look at what you have written. It is always fun to be a critic. Trust me; it is the same when you're your critic. Find if there are any mistakes and correct them for grammar and context.
Re-read, Enjoy Your Work, and Then Submit
Do you enjoy reading? Don't we all? It is one of the few pleasures of this dark, wicket world. It is okay to read your works. You will not only enjoy reading your works but will also find yourself a little proud. It's good to feel proud in a while. After you know it's all okay and ready, go to the site of your institute, upload your document, and hit the submit button.
Conclusion
How to write a 10-page research paper? Answering this could be challenging. It is a challenge no more. You have everything you were looking for. Now write your essay and surprise the world with your excellence.
If you still think it will be difficult to find time to write your research paper, that is totally understandable. You can hire someone for paper writing help from Paper Perk, and they can lift your academic weight for you for a while.