How to Write a Research Paper?
If you're a college student, then you must already know that it's almost impossible to pass the class without writing a research paper. It's usually the longest paper a student has to write during college to pass successfully. No doubt, the process of writing a paper is highly challenging, but do you know how to write a research paper? If you're looking for an answer, then read this blog, which is going to be your one-stop solution to all queries related to papers.
We have come up with a range of questions that students ask about paper writing, along with detailed answers. So, If you're assigned a paper to complete, let's read this blog to learn new things for better understanding.
What is a Research Paper?
This paper involves doing in-depth research on a selected topic in which you design a thesis statement, choose a research method, and collect relevant data. The data is later processed to find results that must prove your thesis statement.
Understanding the Research Paper
Before someone jumps to the idea of writing a paper, it's mandatory to understand the paper first. It's quite obvious that everyone checks a sample paper first to get an idea about the writing structure and pattern. You would have also been doing the same and understanding a paper by thoroughly reading a sample paper.
So, how do you understand a paper? The below-given statements can summarize the ideal procedure for you within five simple steps.
Start with Reading the Abstract
The abstract is the very first part of a paper and it contains the direct summary of the entire paper. It's not wrong to say that reading the abstract helps you to cite a research paper. So, you should also start by reading this part since you will get to learn a lot about a particular paper and the purpose of writing it.
Read the Introduction Part
The introduction holds great significance within a paper because you can find the background, overview of the topic, and the objective of writing the paper right under this heading.
There are so many subheadings in this section that you can easily understand many points associated with the topic of the paper. It's surely one of those parts that can provide you with most of the information quickly.
Have a Look at Research Questions
Research questions tell a lot about the motive behind writing the paper. You can have a clear glaze at the research questions in the paper to find out what they say. Reading these questions can provide you with a vision regarding the paper which is why it's written for the readers. You can understand any paper by reading the questions given in it.
Read the Results
Nobody likes to read the entire paper to understand it. That's why the wiser readers skip to the results. The results in a paper give the exact data of whatever has been found after conducting the research.
The procedure is as important as the results, but to grasp the idea of the paper in minimum time one must read the results. The results in a paper provide the answers to the research questions you have read earlier in the same paper.
It's like finding the answers to the questions immediately when you read this part rather than the literature review or the methodology section.
Make Your Way to the Conclusion
The conclusion is the last part of a paper and it just summarizes and presents the whole research to you. You can have a look at this part as well to completely understand a paper.
It provides a detailed overview of the paper just like the abstract does, but it surely reminds you of many facts you already read in the research paper ensuring that you have entirely understood the paper.
These five simple steps are easier to implement when you want to understand a paper within a few minutes. It's a good trick that works for everyone, so don't forget to give it a try.
How to Choose a Research Paper Topic?
One of the trickiest and most difficult to decide things is most probably the topic of the paper. A topic contains a huge Impact on a paper because a poor topic can even make readers hate your well-written paper.
It's an integral part of writing a paper to select a topic that has great value. Your topic must have been thoughtful and enough space to let people come up with their perspectives.
Therefore, you need to choose a topic that is not so common, yet not so complicated for the readers. Try to bring something new to the readers and impress them immediately with the topic section. Want to know how to choose a topic for your paper? Here are the top six things to keep in mind when choosing a topic for your paper.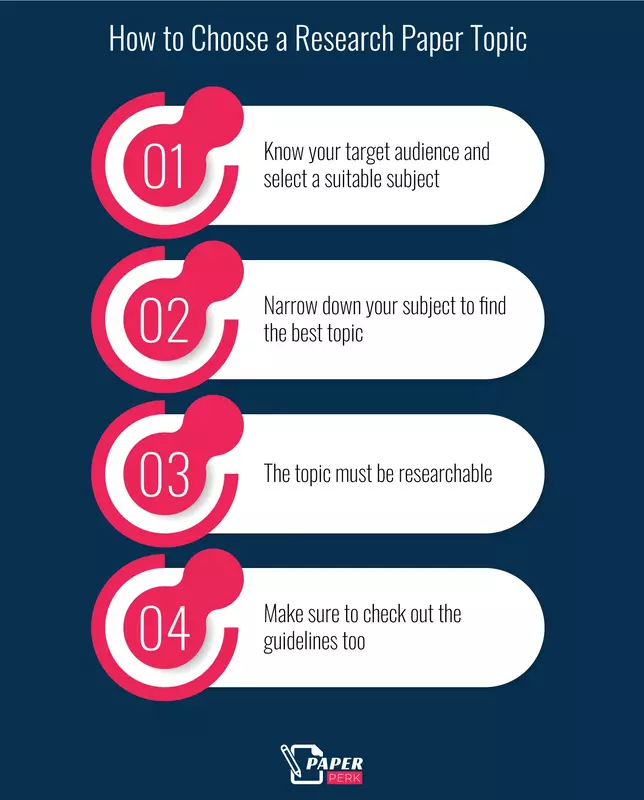 Know Your Target Audience
Sometimes, the researchers ignore the fact of targeting the right audience. They conduct research that is probably not important or readers are simply not interested in reading about it. As a student when you're choosing a topic for your paper, make sure you already know your audience.
In your case, the audience is going to be your teacher. Talk to them and get their views on different ideas. You have to make a worthy impression and for that, you must know what your reader wants to read. This is the first and most basic step toward selecting a topic for your paper.
Choose a Subject
You must refer to a certain subject, field, or discipline when selecting a topic. First of all, it's necessary to choose a subject, so you may know what exactly you're going to write about. Many subcategories come further while narrowing down the subject.
When you decide on a subject, you finish the most significant step of choosing a topic. With knowing your subject you can continue your quest and narrow it down later to find the perfect topic for your paper.
Narrow Down Choices
This is the actual part now in which you're going to narrow down the discipline you have chosen earlier. So, you can think of different topic ideas related to your subject that match together and make equal sense.
While you keep narrowing down your subject, you reach the subcategories and then you have a number of options in front of you. Here you can choose a topic by carefully differentiating between all the given choices.
Select a Topic Wisely
As you do have so many options now, choose your topic very wisely at this step. The narrowing down has given you a lot of space to think and select a topic that matches your interest. As you're looking for a topic that your readers also like, it's a good chance to find a topic that is perfect for your paper.
Find a Researchable Topic
While you select one topic out of so many of them, do not forget to stay relatable with the research model. Your topic should be researchable that already has ample work available on the internet in the form of past papers and interviews.
You cannot research a topic that has no special material available. At the college level, you have to stay relevant and find a topic that is researchable and can provide you with a lot more to learn when writing your paper.
Don't Forget Paper Guidelines!
The selection of a topic for your paper must be done by keeping in view the guidelines provided by your teacher. You cannot come up with a paper-based on a topic that your teacher has already cancelled or cut off of the paper guidelines. So, have a keen look at your paper guidelines before you select a topic of your choice.
That's how simple it's to choose the topic for your paper. it's as easy as mentioned in the steps above. So, whenever you're going to choose a topic for your research, make sure you follow these steps to come up with a brilliant topic.
How to Perform Quality Research?
Writing a paper comes with some challenges that every student has to face. To write a good paper, it's important to conduct quality research that people like to read. Of course, performing the research yourself is a vital step, so, for this purpose, you need to follow some steps or get a professional paper writing help.
Here are five important steps that you should keep in mind to perform quality research.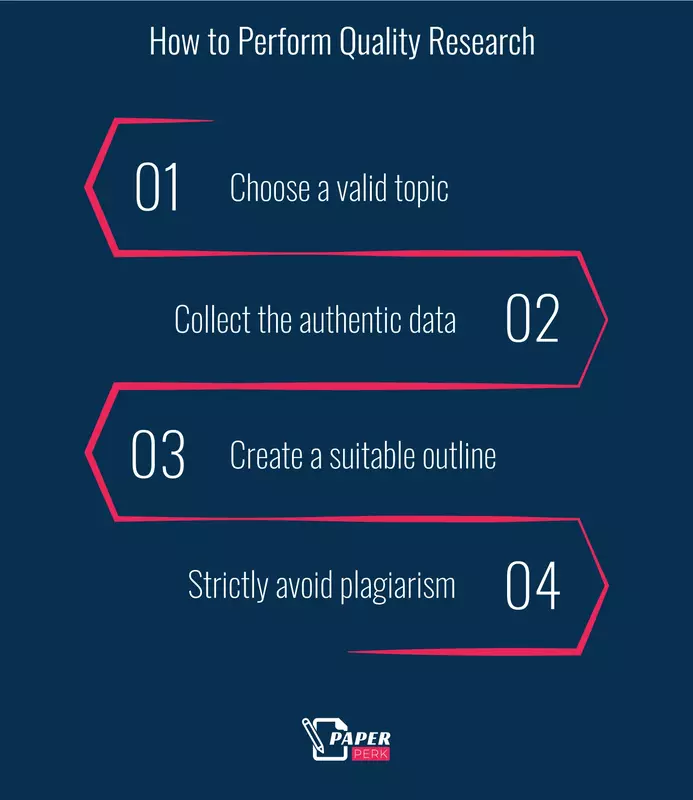 Choose a Valid Topic
Good research does not add value unless you have a good topic to talk about. so, first, you should look for a topic that is authentic, relatable, and debatable as well. You do not want to choose a topic that is not good enough. That's why selecting a valid topic must be your priority.
Set a Goal
Just think about a goal you have in mind behind conducting your research. If you have no particular goal to follow, you most probably just follow leads that do not make any sense.
So, you must have a goal already set that clarifies why you're performing certain research. It would help identify how you're going to conduct your research and what value it will add to the existing pool of knowledge.
Make a Good Outline
An outline provides you with a roadmap that you can follow and avoid distractions in writing a paper. You can also have an outline designed for the research that keeps you focused. it's better to pre-plan everything in your research to know what you're going to find out and how.
It also helps in narrowing your research to certain aspects by putting some limitations on it. The outline is a guideline that you can follow blindly, so make sure you create one that assists you in performing quality research.
Collect Authentic Data
The data you use in your research must always be authentic and it's a fact that shouldn't be reminded to anyone. Research cannot be called research particularly if it contains false information or copied stuff.
Your research must start from 0 and reach 100 without considering the material you're not sure about. Conducting good research that holds quality is like creating something unique which is hard to challenge. Your research data must be 100% accurate to give this sort of challenge to the other researchers.
Avoid Plagiarism
Plagiarism is a sin in the world of academics. Many students are subjected to jail and heavy penalties if caught cheating in university exams. Similarly plagiarized research has the same consequences which is not an ideal thing.
Quality research is unique and has its impact. If you're planning on copying some information from someone else's work, make sure you do not do it. You can simply quote their work if it's relevant to your research by giving a reference. The goal is to stay original and unique rather than a cheater who fails to bring quality research.
In this way, you can perform quality research that is loved by your teacher. You can surely get an A grade on your paper after following these tips.
Come Up With Research Paper Thesis Statement
A thesis statement is also an essential part of the paper. It's something that is called the basis of research. A student selects a topic and then further creates a thesis statement.
This statement is usually proved in the paper with the help of research. Therefore, it's not wrong to mention that research is conducted to prove the thesis statement presented at the very beginning of the paper.
A thesis statement must be a valid one that could be proved in the end. A rejected thesis statement is often considered to be full of flaws since it gets rejected in the end. so, when you choose a thesis for a research paper, make sure it's a good one that is easy to prove, and almost impossible to be turned down.
How to Write a Thesis for a Research Paper?
It's a point to be noted in reality because a paper is not complete without a thesis statement. So, how to write a thesis for a paper? The below-mentioned bullet points can make it clear to you.
Analyze the topic of your paper
Have a look at the data you have collected
Make sure to understand the objective of your research
it's better to design the research questions too and then write a thesis statement
Recall the actual reason,n behind selecting a certain topic since it will help you write a good thesis for your paper
These above-mentioned few things are necessary to consider when writing a thesis for your paper. You need one statement that can make your paper worthy, so, think about a statement carefully and add it to your paper.
Make a Research Paper Outline
An outline helps you a lot when you're planning on writing a quite lengthy paper. Research is always detailed and well-explained, so, it requires some sort of authentic planning. An outline can save you from distractions that come during finalizing the headings and other aspects of your paper.
So, how do you make a paper outline? It's very simple, which you can see in the six simple steps given below.
Select a Topic First
How can you create an outline when you haven't decided on the topic of your research yet? It's important to decide your topic first since you're going to do the entire research based on that certain topic. Design a topic and then move to the further steps.
Write Thesis Statement
Why is the thesis statement the second step? Well, if you need to do the research for your paper it's mandatory to know what is the basic foundation of your research. A thesis statement is not just a regular statement, it's a claim that you put forward at the very beginning of your paper.
You challenge your readers that you're going to prove this statement by the end of this research. That's why the material collected via research relates to the statement. So, in the second step, you need to write your thesis statement and make sure you do it after critically thinking and analyzing your research topic.
Complete Your Research
You must complete your research now since whatever you're going to write should be valid and powerful. You can keep your thesis statement in your mind and start your research.
Your research includes finding the arguments, evidence, valid past research, and all those sources which could help you in your paper. In short, you will be finding all the material you need to conduct your research in a fair manner. To have a good outline, it's better to collect all the research material in advance to make the process simpler.
Arrange the Headings
Now the implementation part starts where you will be arranging different headings. it's suggested to follow a sequence in setting headings and subheadings in your paper. So, in this step, you will be arranging all the headings of your paper. This step ensures you write down all the names of all the sections to not miss them later in the writing process.
Fill With Necessary Data
An outline isn't supposed to be based on just headings, it must have some other details too. Now you can write down some important details into each heading to start with. It will make your outline-making procedure more helpful since you also have mentioned the data which will be explained in each heading.
Format each Heading Properly
The formatting pattern must be on-point in your outline. Format your headings properly from top to bottom. Starting from the Title, to H1, H2, H3, and so on, it's necessary to mark the headings as per their sequence to leave a better impression on the reader. The presentation of your paper will become even better if you design your outline like this.
Hence these six steps can help you design an outline that makes a good and easy-to-read paper.
Research Paper Format
The format of a paper is similar to the format of a college-level essay as similar kinds of headings are used in them. There are some more headings and detailed sections in a paper because of its requirements.
A format provides readers with a pattern that involves every heading at a particular place. The information is provided to the readers one by one with the help of a format.
For instance, the details that should be read first are written in the very beginning. While those which have to come later or in the end are set accordingly. Want to learn more about the format of a paper? Have a look at these steps to know how a paper is formatted.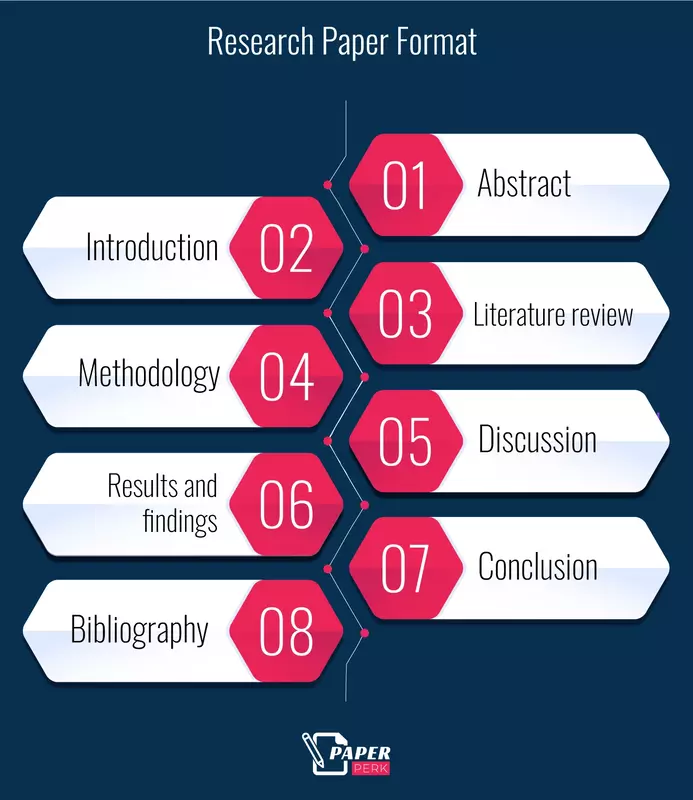 1. Abstract
it's the first part and it has to be at the very top since it contains the exact summary of the entire paper. Due to its significance, it's kept at the top of the paper.
2. Introduction
The introduction is the second part which is followed by many other subheadings. The subheadings are written in this part to complete as many sections in one category. These sections are
Background: To discuss the history of the subject and provide some background.
Objective: To mention the purpose of writing the paper.
Research Questions: To write the questions which will be later addressed in the paper.
Significance of Research: To mention why and how this research will be important for the audience.
Thesis Statement: To provide a statement that will be followed throughout the research.
3. Literature Review
A literature review is another part of the research that contains a reference to past research. It's mandatory to quote the valid and most accurate research from the past to make your paper even more authentic. Proper reference is given to the authors along with their publishing year to provide a detailed background of your topic.
4. Research Methodology
This part contains the methodology which you have chosen to conduct your research in a certain way. There are some other parts of the research methodology such as
Research Method: The exact method which you're going to choose to conduct the research.
Research Instrument: The significant tool to collect data is either an interview, questionnaire, or anything.
Data Collection: It could be the data about the individuals involved in the research.
Population: the number of people involved in your research or the number of sources used to collect data.
5. Discussion
Now as you're done with the research methodology part, it's time to move to the discussion. You will discuss what is going on within the research, how are you doing it, what information is coming out, and in which direction the results are going.
6. Findings and Results
The findings and results are usually the outcomes that are found after completing the research. It will help you identify what results have come out and whether they prove your thesis statement or not.
7. Conclusion
This is the section where you will be writing everything you have found out but in a very summarized manner. You will write how the results have proved your thesis statement. You can also mention the scope of your research plus the value it will add to the readers.
8. Bibliography
It's time to write the bibliography also known as references of the in-text citations you have mentioned throughout the paper.
In this way, you can do the formatting of your paper. It's the most standard pattern that researchers and students follow to present their research in a defined manner. it's correct to claim that the given method of formatting a paper is an ideal one and is followed by many authors globally.
How to Write a Research Paper?
The question asked in the heading is itself the biggest challenge students usually face in writing a paper. For some reason, it's like winning the toughest battle with limited resources. Everyone is aware of the paper writing and how exactly it's done. It has to be clear, accurate, and fruitful for the existing research.
some steps involved in writing a paper. Let's have a look at all of them one by one and see how they help us understand every section of a paper.
a. How to Start a Research Paper?
A paper is usually started with some headings like
Abstract
Introduction
Research objective
Research purpose
Research questions
Thesis Statement
To start a research paper, you should focus on the things such as
Selecting a topic: Because it's very important to choose a topic first as on this basis you will be writing a paper.
Collecting research material: It will be used in writing the paper.
Making an outline: An outline saves your time and provides a better guideline to write a paper.
Read again and write: Starting the process will simply make it even better so, let's go with the flow.
In this way, you can begin with these simple steps and keep on writing an excellent paper easily.
b. How to Write a Discussion Section of a Research Paper?
The discussion section of a paper has to be related to the information found after collecting the data. In this section basically, the results of the research are formed. You can just discuss the significance of the results and give more insight into them in this section.
c. How to Write the Results Section of a Research Paper?
The result section of the paper must contain the point results. They could be either the numerical values, percentages, or anything which have been found during the research. Sometimes, the results are presented in the form of tables which are often compared if they belong to different categories.
You can collect your results first
Put them into the right sequence
Fill them into tables or just present them right away
d. How to Write Methods Section of a Research Paper?
To write the methods section of the paper, you need to keep in mind the below-given things.
Choose a methodology first because you must know one before you start your research
Then write about the research Instrument which you're going to use whether it's conducting the interview, distributing the questionnaires, or using any other valid method
Write down the details of the individuals involved in your research
Write clear details about the data collection methods
You can also mention the ethical implications in this part of the research
e. How to Organize a Research Paper?
Well organizing a paper must be the initial best thing to do. You can do it better in the outline forming process easily since it's just the starting and will prove to be more helpful. So, what you can do is
Set a sequence of headings in the outline
Write each heading and subheading one by one
Complete the research first and one by one fill out all the sections
Determine the word count and number of facts for each heading in advance
In this way, you can easily organize research paper without finding it a difficult thing to do.
f. How to Write Conclusion for a Research Paper?
When writing the conclusion of your paper, you must have the following things in your mind to make it happen.
Read the abstract and results sections once
Recall all the findings your research has done
Summarize all the facts into a few bullet points
Create sentences now and write the conclusion
Make sure it's thoughtful and summarizes the entire paper in a simplified way
It's the simplest and easiest way to write the conclusion of your essay. These steps can save you time and do the thing abruptly.
g. How to Title a Research Paper?
This is the real deal actually in the entire paper. If you learned to give a title to your paper then you have already become an expert in research. These are some suitable ways to title a research paper.
Know your audience
See what your teacher is suggesting
Choose what you prefer
Check if the finalized topics have any scope
Find out the past work done on topics you have chosen
Choose a topic that is in demand
Choose a subject and narrow it down as much as possible
With these possible ways, you can finally find a perfect topic for writing your paper.
h. How Many Sources are Needed for a Research Paper?
Around 8 to 10 papers are recommended to be used as sources for a paper. As you're conducting research that has to be justifiable, you must use as many sources as you want.
For the minimum number, it's suggested to quote at least 8 sources in a lengthy paper. it's mostly dependent upon the length of your paper. The students who are assigned a paper of a length of 2000 words are often asked to use only 6 to 8 sources.
However, the students who write a paper consisting of 5000 to 7000 words do need to add like 15 to 20 sources. The higher number of sources quoted in a paper is directly equal to the enhanced authenticity of your paper, that's why it's favorable to do this thing.
i. How to Cite a Research Paper?
It's another important question that comes into the mind of every student. Here are some steps to cite a paper.
Follow the guidelines given by your teacher by seeing what citation method they have suggested.
Write the in-text citations inside the text of the document.
Use a website to form the citations for the paper.
Write correct and complete details of the author, year of publication, and other information from every source.
Copy the final citations and paste them into your paper.
By following these steps you can easily cite your papers. The citations will turn out to be perfect and ideal.
j. How to Write an Abstract for a Research Paper?
An abstract is the very first part of a paper but it's written at the end of completing the entire paper. It's because it contains the to-the-point summary of the introduction, methodology, results, and conclusion of the paper.
Have a question, how to write an abstract for a research paper? here are the steps
Read the introduction- it'll give you more idea about the beginning of your paper
Read the methodology part- you will come to remember what methodology did you use to conduct the research
Read the findings- since these are the actual outcomes of your paper
Read the conclusion- as it contains the last and summarized version of your stance
And that's how you will be able to write a small paragraph based on all of this information which you can further paste on the top of the first page.
k. How to Write a Research Paper in One Night?
It's quite an impossible kind of task that is never recommended to every student. A paper is the most vital thing in the course which carries maximum marks.
However, if you have missed your deadline and you want to complete it in one night, here are a few tips.
Get yourself a mug of coffee first, it'll help you in staying up till morning
Select a topic immediately
Finish the research in one hour
Start with the outline and create one within 15 minutes
Take a 15 minutes break and get back to the writing part
Start with the introduction and keep going until you reach the conclusion
Now add the citations and references
Make sure you proofread your paper in the end too since it's written in quite a hurry
Do the formatting
Now email it to your teacher before you miss the deadline
These tips have been effective for those students who regularly miss the entire month or week. You will surely be able to complete your paper if you follow these tips seriously. But still, it's never advised to waste all the days and start working on the very last night. It heavily affects the quality of your paper.
Proofreading the Research Paper
Proofreading the paper is as important as writing it. When you're done writing, there are so many flaws left in your writing that need to be removed before you deliver your paper. Constantly writing makes you unaware of all the writing mistakes you have been making in the entire paper.
Want to know how proofreading is done? Let's have a look at the below-given tips to proofread your paper.
Finish Writing it First
You must not start proofreading your paper if you're still in the writing process. it's a wrong practice that can ruin the entire flow. it's better to wait and complete your paper so the writing part ends. Afterward, you can prepare for proofreading which means removing all sorts of writing mistakes from your paper.
Read the Paper
it's a deal of reading the entire document of your research word by word. If you're not going to read it this way, you will end up leaving a lot of mistakes in your paper. So, it's necessary to read each word carefully and see if it's correct or not.
Highlight the Errors
Now highlight all the errors in your document with the help of pointers or markers whatever is available. By highlighting them, you're creating a list that you have to look into later.
Edit it
Now you can edit your document by focusing on all those highlighted errors. It will make the job easier and better for you. Editing the document means removing all the mistakes that you have found in your paper. With this step, you will be ensuring that your paper is now 100% error-free and ready for submission.
Repeat
it's all up to you if you want to repeat a similar process again or not. Many students proofread their essay twice or thrice because it gives them a guarantee that their work is finally error-free. So, by following these steps you can determine how much proofreading your research essay requires.
Sometimes you just need a single round while some of the students may need to read their documents 2 to 3 times for better proofreading. Remember, your paper would look absurd and meaningless if it has countless writing mistakes so make sure to fix them beforehand.
How to Publish a Research Paper
Who doesn't want to publish their paper prepared with utter dedication and hard work? It's a dream for so many researchers who are working day and night to get their papers published officially. There is a specific method given below which is followed to get your paper published.
Submit an Outline
Before you even start working on paper or submit it entirely for publishing, send an outline to the publisher. It will help them get an overview first. Upon acceptance of this outline, your entire paper would be considered later.
Write and Submit First Draft
Now it's time to write the first draft of your paper and submit it to the publisher. The purpose is to involve them in your writing journey so they may suggest the right things within time.
Follow Ethical Rules
Every publication has some ethical rules that researchers must follow. Get a copy of those rules and strictly abide by them to not get your paper rejected.
Finish the Final Draft
Finishing the final draft means completing each and everything inside your paper including proofreading. Afterward, it's time to send it over to the Journal. You can take some extra time to check out the extra things in your paper and make sure they are perfect.
Submission
Now get your paper submitted for the final review and publishing. This is the final step and completing it will give you a lot of relief as you have prepared the entire paper according to the guidance of the Journal.
In this way, you can get your paper published very easily in your favorite Journal.
Research Paper Checklist
You might be wondering what a paper checklist is. It's a list that contains all the headings of your paper and the number of things you have successfully written in them.
It's a kind of list that reminds you if you have written everything in your paper or missed something. It's also called a summary of your paper that someone can read and identify exactly what you have done in each section of the paper.
You just simply have to prepare a list of all the headings, write down the major things you have mentioned in them, and submit this list to your teacher if required. Most of the students prepare it since it's important.
Conclusion
That's all for the paper writing tips provided in this entire blog. We hope you're now aware of how to write a research paper. If you have something more to ask or want to share your own opinion, leave the comments below or hire an expert research paper writer since we love to hear back from our readers.