How to Write an 8 Page Paper?
We all know writing a research paper is not an easy task. Especially if it's essential for getting good grades and a top spot in your school or college. Are you sure you know how to write a research paper fast? We know most of you haven't got the time for such a lengthy process.
If you are one of those who are still thinking and couldn't make the first step then you're reading the perfect blog. This will help you in getting those grades that are way too important and most importantly you will be able to know how to write an 8 page paper that can get you aces.
Keep reading to have a perfect understanding of the gaps. It will lead you to write a professional research paper.
Steps to Write 8 Page Paper
Like all the basic steps we take for any task, it's important that we know how to write a research paper. At least having a vague idea about what steps we need to follow will point us in the right direction.
Writing a research page requires the same ideology from the start to finish. Form an outline of steps for a better undertaking.
Don't worry, In this blog, we have already sorted out for you these key easy steps that will make you write like a pro.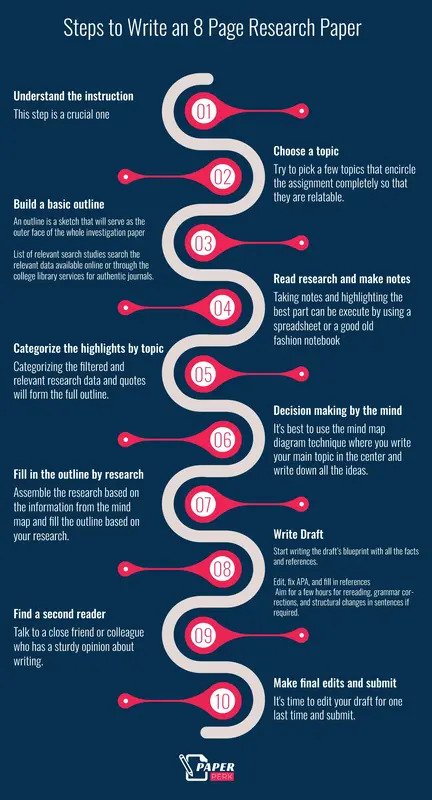 Understand the Instruction
This step is such a crucial one that more than 50% of students make a mistake in getting it right. Without understanding the instruction is like wandering on a road without clear direction.
If you don't know what the topic is asking from you or the set of instructions to define the topic then it's a waste of time.
Always have a clear mind and understanding of the instructions you need to follow before starting a research paper.
The technical requirements should be a priority. Like what the length of the paragraph should be or formatting style etc.
Keep in mind the research papers are not generalized. They might have different formatting requirements for single or double spaces.
understanding the intro prerequisite as it should not be more than 2 paragraphs.
Also, it's better to give it a time based on your availability to have the knowledge of these steps. Take at least 15 to 20 minutes then make up your mind about when and how to follow the requirements
Choosing the right topic seems quite easy but it's not. As each topic has its own scope and relation to the research.
A right and specific topic will give you an edge if you already have knowledge about it.
Try to pick a few topics that encircle the assignment completely so that they are relatable. it can let you know how long should a research paper be?
Never pick a topic that has less reliable information. In case of unavailable data and it can damage your credibility.
Picking the right one will always save you a lot of energy and fatigue and it will pay off in the end.
The topic describes what's in the paragraph so try to choose only relevant topics of research.
Most people choose a random topic. As it exceeds their expertise and ends up as the wrong selection.
Also, the topic should be precise enough to fit in an average essay length.
An outline is a sketch that will serve as the outer face of the whole investigation paper. It can help you in getting to understand the concept of this exploration.
An outline is based on instructions and it's better to have it in bullets so the details can be defined.
It's understood outline is a conceptual stage. It's not mandatory that it's detailed or lengthy.
Ask for help from your professor to provide some old papers that can serve you well.
It will act as a guiding beacon and is not wrong at all. Unless you try to copy them completely.
Having a look at someone's work will give you an insight into how it's done.
Also how different students had completed investigations on their paper topics. Try to make sure that it's relevant.
List of Relevant Research Studies
The latest technology has proven to be more beneficial to search the relevant data.
You can search online or through the college library services for authentic journals.
google scholar is also good for searching for relevant research articles.
It's inevitable that the list of journals and research documents will have extensive data and extracting the right one will take time.
Read Research and Make Notes
Reading all the gathered data will be tough but it will help you in taking notes.
It's also good to use the practice of rechecking references for authentic and filtered data.
Take notes and highlight the best part by using a spreadsheet or a good old fashion notebook.
This highlighted data will be useful for reference purposes.
Categorize Highlights by Topic
Categorizing the filtered and relevant research data and quotes will form the full outline.
Also, delete the ones that don't seem a perfect fit or are miscellaneous.
Decision Making by Mind Map
Try to read as much as you can on the research points you have noted down. It will help you make decisions about the solid bullet points to add to the paper.
It's best to use the mind map diagram technique where you write your main topic in the centre.
write down all the ideas that have emerged from the research. You will see a pattern emerge showing which argument has the highest validity and is most relatable.
Fill in Outline with Research
You can start assembling the pieces based on the information gathered from the mind map and fill the outline based on your research.
Try to sort out which arguments you want to make and what details you can present.
Data like statistics or findings and supporting evidence from your research writing will help.
Now it's best to start writing the draft's blueprint with all the facts and references. Try to write in chunks and give yourself enough breaks so you don't get tired or run out of ideas.
Edit, fix APA and fill in references
Having some decent time between these steps is important to have the creativity to avoid writer's block.
Always aim for a few hours for rereading, grammar corrections, and structural changes in sentences.
Have a printed page of the draft for adding or crossing any words or sentences you don't see as a perfect fit.
Correct APA and any writing format, style, and citations. Try to use alphabetical order for the best sorting of citations.
It's best for you if another person reads your research paper and points out obvious issues. Try to have a conversation with a writing expert in your circle or beyond.
if you don't want to avail yourself of an expert opinion, then talk to a close friend or colleague.
whoever you choose should have a sturdy opinion about writing and an analytical mind.
Make Final Edits and Submit
Having all the relevant and valid suggestions provided by your second reader it's time to edit your draft for one last time before submitting it.
Remember a second opinion might be partial or completely correct or the exact opposite.
It's always based on the experience and knowledge of the selected individual.
These are the well-weighted and decent steps for an effective technique.
How to Structure and Organize a Research Paper
Organizing your paper from the start to finish is a must-do if you want to write in a manner.
If the research is understandable and can make sense to the reader then you're making new fans for yourself.
Before structuring and organizing, research paper writers must consider the following points. Just make sure it is unique and stands out among other content.
Forming Structure of Paper
Research writing goes through a General-Specific-General format. It's an ideal way to structure your paper.
The investigation points will give a reader a precise meaning when the structure is in a flow.
Let us explain how to follow these instructions in a detailed overview.
Introduction of Paper
In the introduction, you can start with a general statement like establishing the background.
Also nature of the research problem, the importance of the topic, or the newness of the research you are presenting.
Purpose of Paper
After that start with a specific point like the purpose of the research, thesis, or hypothesis.
Try to establish an outline of the intentions behind the paper.
Methods of Paper
Then comes the method that focuses on information on design, procedures, assumptions, approach, data, etc.
Results of Paper
Results are next in the structure that encompasses the main findings, the argument, or what has been achieved by the research.
Discussion/Conclusion of Paper
This section interprets or extends results, and draws inferences.
Also, this points to applications or wider implications of the investigations.
It ends with recommendations from the writer on how he sees the situation.
Organizing a Paper
Organizing a research paper is as important as the data in your investigations or findings. An unorganized or cluttered formation will let you lose all the hard work you put there.
For time-saving, you can spend your weekend rearranging headings and topic discussions. which might lead you to a mediocre writing style and unconventional flow.
Organizing the research paper will let the reader know that information is precise. It should be in logical steps. rather than a mixed-up version.
Undeveloped paragraphs will only work as a repellent for the readers.
An 8 page Paper outline
The outline of an 8-page paper should have uniform rules. that dictate what the research should contain.
Usually, an outline has an Intro, Body, and Conclusion.
Why We Need an Outline for 8 page Paper
An outline is a blueprint of the whole research. it works as an outer shell for the entire document describing what's inside.
When a reader sees the outline he/she knows what is in the document. An outline gives them an overview that the contents are relevant and their time will not be a waste.
Intro of an 8 Page Research Paper
The intro of a research paper includes three components. These are essential parts and contain Hook, the Target audience, and a statement.
A hook is one that raises questions in readers' minds and presents facts and statistics.
The audience who read them should feel that they are the ones for whom the writer has written and did the hard work.
The statement is where arguments are in favour of the research document. The statement proves the significance of the work with perfectly crafted words.
Body of an 8 Page Paper
The body of the paper contains all the relevant information in an organized form. The details for support should base on facts and examples.
Conclusion Of an 8 Page Paper
The conclusion for a research paper is where you stand firm on your thesis statement. The facts you have given are well-founded and logical.
Summarize some paragraphs from the main body for the reader's persuasion.
Conclusion
Above mentioned steps will prove to be helpful for all writers regardless of the topic. Submit a unique and detailed information investigation paper for good grades.
Now you know how to write a research paper so start writing and follow the guidance.
Are you interested in sharing your views? Let us know in the comment section