How To Write A Research Paper Outline?
One of the most asked questions in the niche of thesis and research is, how to write a research paper outline? What makes it so important? Without taking the length or complexity of the paper and contextual depth, the outline will do more than just set your path straight. That way you will be able to stay focused from starting the introduction to writing the conclusion for your research paper.
This article discusses writing a quality research paper outline for effective and well-structured projects, reports, and essays. In case you want Paper Perk to write your research paper outline? Order now and your wish is our command!
Steps Towards Writing A Research Paper Outline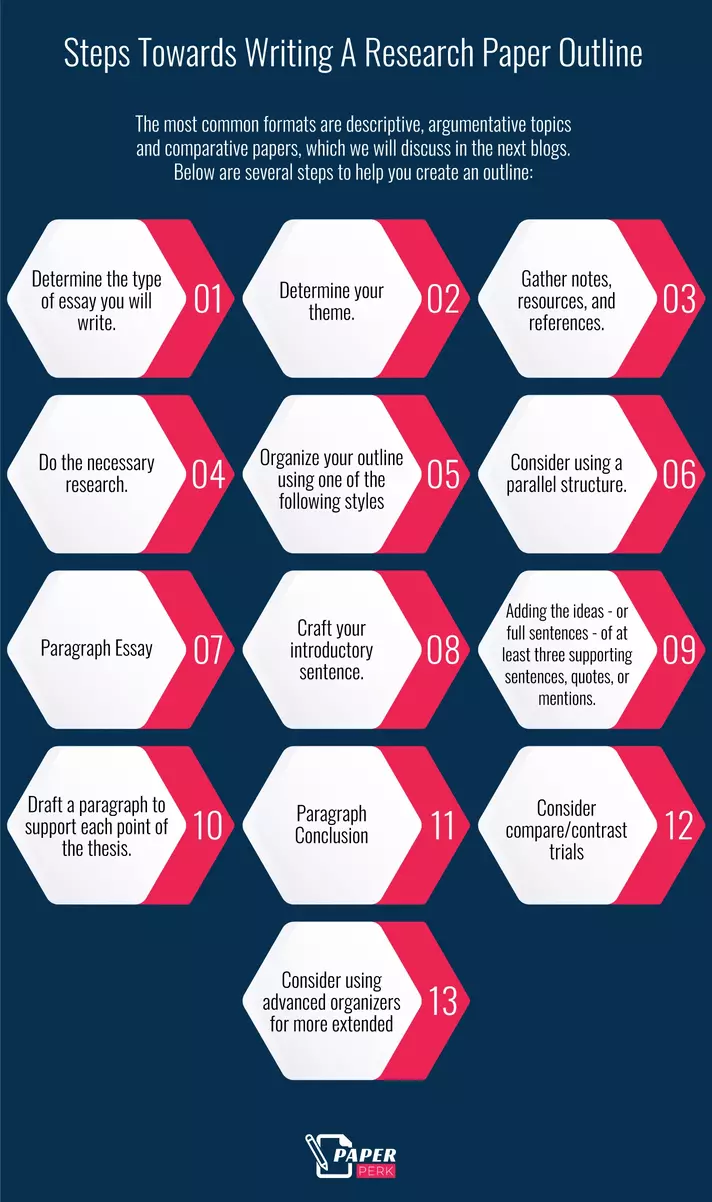 After choosing a topic, you have determined the type of research paper you will write. The most common formats are descriptive, argumentative topics and comparative papers, which we will discuss in the next blogs. Below are several steps to help you create an outline:
Determine the type of essay you will write.
Research essays for high school and early college are often five paragraphs long and are either descriptive or argumentative.
Determine your theme.
Many supervisors might provide topics for students and guide them about how to write a research paper outline. The best topics are those that interest your reader and are debatable.
(Even if they haven't provided you with the research topic, you can explore Paper Perk's 402 Best Research Paper Topics.)
Gather notes, resources, and references.
Before you begin writing, take some time to gather all of the notes, resources, and references you will need. Everything you need beforehand will save you a lot of time and trouble. This way, you will be able to write with full concentration and without any distractions.
Do the necessary research.
Before writing your research outline, ensure your facts and figures are solid. Having your technical, literary or scientific research paper well-supported will make your work thorough and reliable.
Organize your outline using one of the following styles
Full-sentence or alphanumeric. Alphanumeric outlines provide less detail than full-sentence outlines. Below you will find examples of both styles.
Consider using a parallel structure.
Each section of the outline should begin with the same type of word: nouns or verbs, for example. If you use verbs, make sure you use the same tense.
Paragraph Essay
Think about a five-paragraph essay, even if your paper is longer. Essential sections include an introduction, body paragraphs directly addressing the thesis, and a conclusion.
Craft your introductory sentence.
This is one of the most important sentences in the report, second only to the thesis. This sentence should generate interest while also introducing your topic.
Adding the ideas – or full sentences – of at least three supporting sentences, quotes, or mentions.
Create an argued thesis. It is usually the last sentence of the introduction and contains three points. For example, "The Movie Rosemary's Baby" is a masterpiece for its use of atmospheric horror, visual symbols, and a surprising ending."
Draft a paragraph to support each point of the thesis.
Begin each section with a topic sentence that sequentially addresses the facts of the idea. For example, the first paragraph in the body of an essay using the above theory might be: "Rosemary's Baby" was one of the first films to successfully use multiple cinematic elements to create atmospheric horror."
Paragraph Conclusion
Begin the concluding paragraph by reaffirming the thesis of the article. For example, "For the reasons stated, Rosemary's Baby was a masterpiece of the modern horror film."
Add the ideas -or complete sentences- of at least two sentences summarizing your essay.
End the conclusion with a statement or by making suggestions for further research.
Consider compare/contrast trials
The structure of a compare and contrast essay is slightly different. Typically, these essays consist of an introduction, a similarities paragraph, a differences paragraph, and a conclusion.
Consider using advanced organizers for more extended essays.
In these cases, you can develop each point of the thesis through multiple sections; these can be entered using a progressive organizer, choosing titles for your research paper and adding proper subtitles.
What Is A Research Paper Outline?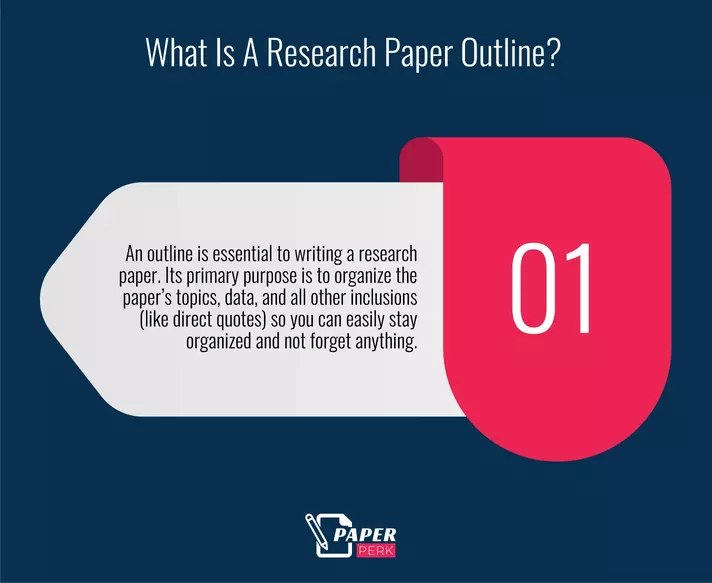 An outline is essential to writing a research paper. Its primary purpose is to organize the paper's topics, data, and all other inclusions (like direct quotes) so you can easily stay organized and not forget anything.
It's customary for writers to perform proper resourcing and conduct a thorough fact collection to form an outline before writing the first draft. Making structural changes during the outlining phase will be far more efficient than after you write the first draft. When you have the outline beforehand, you'll be able to make decisions early. You can add or remove the topics that you might think are a little irrelevant. Later, you can replace them with new topics.
Curious about some qualitative research topics? Follow 300 Qualitative Research Topics For Easy Academic Victory.
What Makes A Research Outline Important?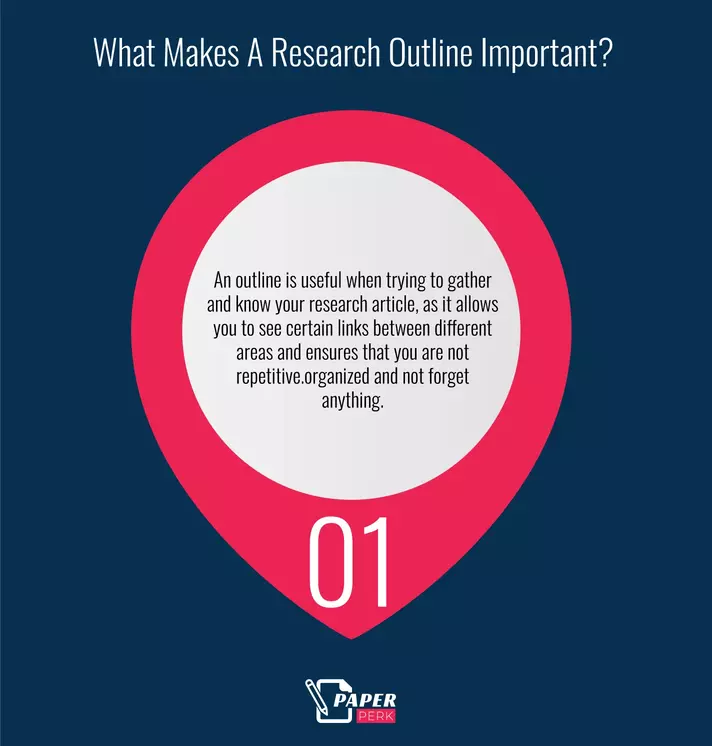 An outline is useful when trying to gather and know your research article, as it allows you to see certain links between different areas and ensures that you are not repetitive.
An outline may not be necessary for a short essay, around 2,000 words or less. On the contrary, a longer document or a large amount of information you must take full understanding and put in writing must overwhelm you. Trying to write a 10,000-word thesis without an outline is an exercise that will go in vain.
Some topics, typically those that use the MLA format, require an outline written at the beginning of the document. Others, while not requiring an outline, do require an index for longer papers, and an outline makes this process much more manageable. It allows you to organize and properly layout headings, letting the word processor's automatic indexing tool do its job.
We know writing an outline is very important for your assignment, but there are many obstacles to doing so. Because each topic and its research requirements are different. For example, when we talk about how to write a scientific review research paper, we need to be focused on what this requires a student to do.
For long articles, there's nothing wrong with showing your supervisor your outline early in the process, as they'll be able to tell you if you're heading in the right direction.
What To Do First While Writing A Research Paper Outline?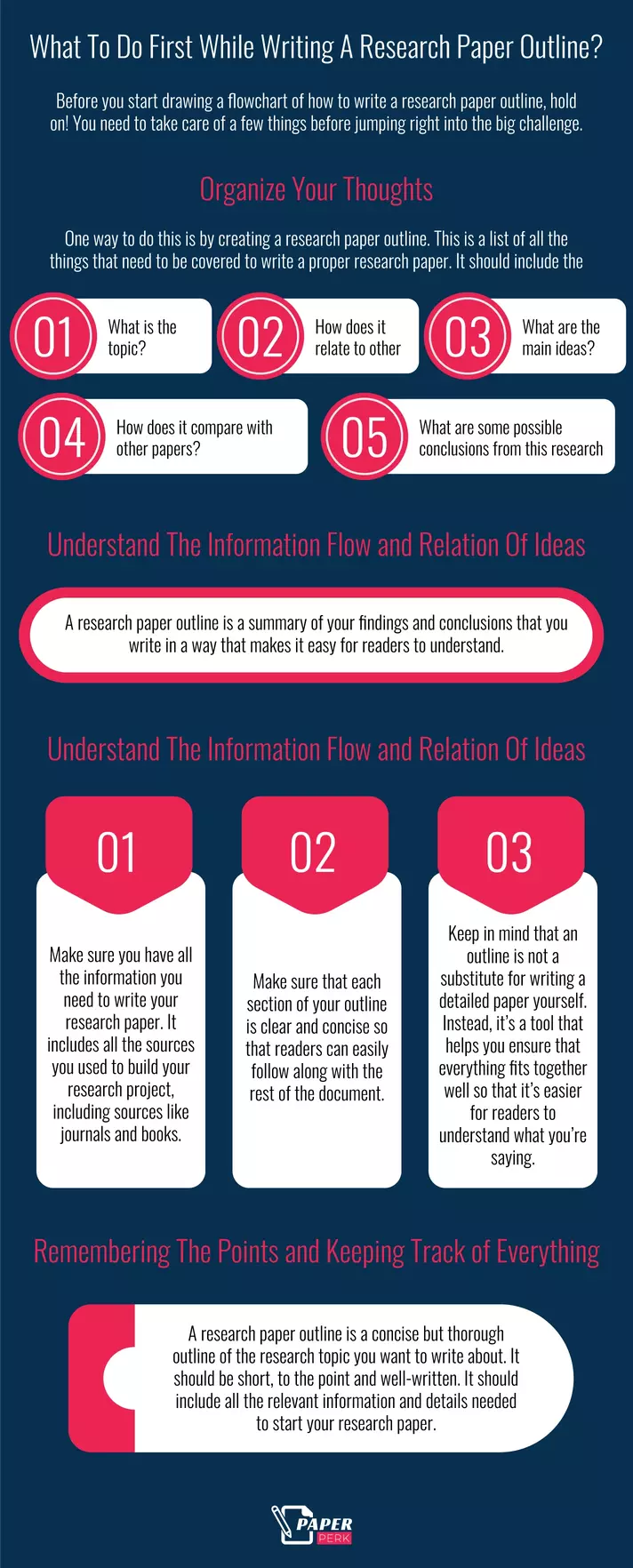 Before you start drawing a flowchart of how to write a research paper outline, hold on! You need to take care of a few things before jumping right into the big challenge.
Organize Your Thoughts
Researching a paper is one of the most important tasks you can undertake in your academic career. The more you know about the topic and its details, the better you can prepare yourself for writing a report. However, it's also essential to organize your thoughts to write a clear outline that will help you remember all the information you need to know. This will help you to organize your paper and keep everything in order.
One way to do this is by creating a research paper outline. This is a list of all the things that need to be covered to write a proper research paper. It should include the following:
What is the topic?
How does it relate to other topics?
What are the main ideas?
How does it compare with other papers?
What are some possible conclusions from this research paper?
Understand The Information Flow and Relation Of Ideas
A research paper outline is a summary of your findings and conclusions that you write in a way that makes it easy for readers to understand. It should be brief, to the point, and not overly technical. The purpose of an outline is to help readers understand how you arrived at your conclusions.
How to write a research paper outline? Things to keep in mind:
Make sure you have all the information you need to write your research paper. It includes all the sources you used to build your research project, including sources like journals and books.
Make sure that each section of your outline is clear and concise so that readers can easily follow along with the rest of the document.
Keep in mind that an outline is not a substitute for writing a detailed paper yourself. Instead, it's a tool that helps you ensure that everything fits together well so that it's easier for readers to understand what you're saying.
Remembering The Points and Keeping Track of Everything
A research paper outline is a concise but thorough outline of the research topic you want to write about. It should be short, to the point and well-written. It should include all the relevant information and details needed to start your research paper.
A good outline can help you avoid mistakes and ensure that you write in a consistent style throughout the document. It can also help you remember all the important facts about your research topic and your ideas for how to write a research paper outline.
The best way to follow a good outline is by using a template or a set of steps you have created yourself. This will allow you to ensure that everything is covered in one place, making it easy for you to read and understand.
Types Of Research Paper Outlines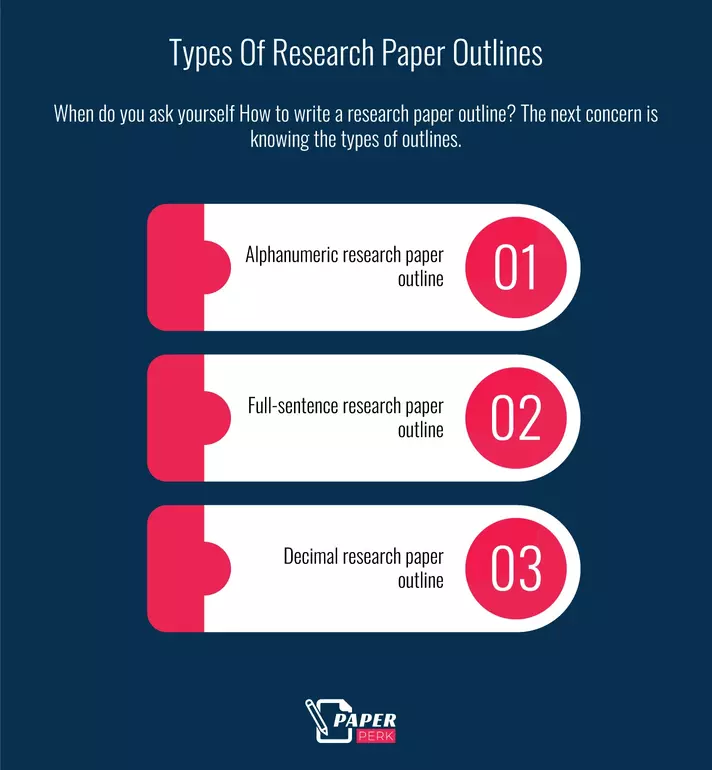 When you ask yourself How to write a research paper outline? The next concern question is knowing the types of outlines. An outline is a written plan that sequences the main points of your research article. It is useful when trying to amalgamate and evaluate your research article, as it allows you to see certain links between different areas and ensures that you are not repetitive.
Creating an outline can help you to better understand the relationships between different sections of your research article, and can make the writing process much easier. Having a clear and well-defined outline can also help to ensure that your article is concise and free of errors.
There are multiple formats to make your points in a document. The most popular formats for research paper outlines:
Alphanumeric research paper outline
Full-sentence research paper outline
Decimal research paper outline
Coming up, we will explain the types and examples of these types of outlines. You can have a better idea that way.
1. Alphanumeric research paper outline
The most popular way of creating an outline is an alphanumeric outline. Most scholars and researchers rely on this. Instead of writing whole sentences, in the alphanumeric outline, we use brief phrases or words that are enough to define the meaning of our topic.
Example:
HEAD OF THE TOPIC1

The first point

Subpoint

Subpoint of subpoint 1
2. Full-sentence research paper outline
Full-sentence outlines have the same organization (Roman numeral headings followed by lowercase letter subheadings) as alphanumeric outlines. However, they differ in that they do not include any additional information beyond what is contained in the outline. For example, an outline may have a list of keywords but no definitions or explanations.
Example:
Top heading of the subject of the research paper

The best argument of the subject

Sub-point discussing basic argument

Additional evidence and descriptions of the arguments
3. Decimal research paper outline
forgoes the alphanumeric system of numbers. Instead, it uses a system of numerals with increased decimal points with the main topic listed as a whole number (1 or 1.00), subtopic with one decimal point (2 or 2.00), points under a sub-subtopic with two decimal points (.01 or.001), and further details with three decimal points (.0001 or.00001).
Example:
1 Body paragraph one

1.1 First point

1.1.1 Sub-point of the first point
1.1.2 Sub-point of the first point

1.2 Second point
You can also explore our list of argumentative research topics
Conclusion
Writing a research paper outline is not all beds and roses. But after reading this, we are sure all your confusion is gone and the question of How to write a research paper outline has been answered.
If you are still having trouble managing the schedules, you can just say, write my research paper outline, and we will be right there for you. We have professional writers at Paper Perk that can ease all your worries about your thesis outline.